The Advanced Oriental Brush Painting class is unlike any other offered at Chaminade. Many students in the class are faculty members of Chaminade University. Some have even taken the class multiple times.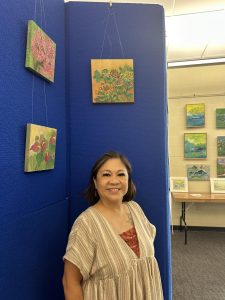 "I am looking forward to taking it again," said Edna Magpantay-Monroe, a former nursing professor at Chaminade and now a professor and dean at the Hawaiʻi Pacific University School of Nursing who has taken the Oriental painting class twice. 
Jungwha Suh, an assistant professor of Arts and Design at Chaminade, has also taken the class twice. Cheryl Edelson (the dean of the School of Humanities, Arts, and Design), David Coleman (a professor of Religious Studies) and Sister Malia (a senior lecturer) were among the 19 students in the class who showcased their art in the 21st Solo Invitation Exhibition, which was displayed in the Sullivan Family Library, starting on Oct. 4 and ending on Oct. 11 with a reception held at the lānai of the library. 
Taught by Sister Benedicta Ha, Oriental brush painting focuses on the basic brush painting techniques with an emphasis on Korean styles. The class explores the "traditional spirituality inherent in the process of creating Asian art," according to the class description. Ha, who is with her convent in Pittsburgh, was unavailable for comments.
Magpantay-Monroe noted her experience in watching Ha paint using the Oriental brush painting technique. 
"If you ever watch her do her painting and the way she holds her brush, most people tend to hold for control at the bottom of the brush but she does it on the top," Magpantay-Monroe said. "She said that the strength comes from your shoulder. So basically, if you let the strength from your shoulder dictate the way you move the brush, it will just flow."
Suh compared the Oriental brush stroke style of painting versus a more Western-style brush stroke. 
"It's not about just fast-paced, one-time painting and then you get the result right away," Suh said. "It's about process. So you're adding layers and layers of different colors and after it dries up, you add more layers."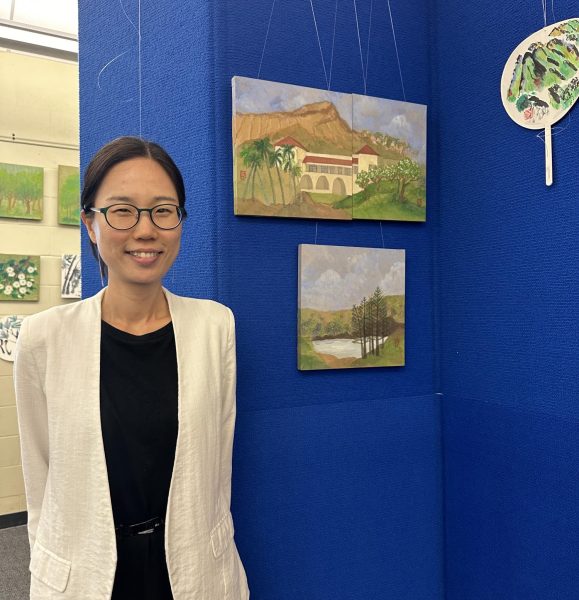 Suh enjoyed how Ha let the students have a more independent approach to creating their art pieces.
"She gave us a lot of freedom, and using my own inspiration rather than just telling us what to do," Suh said. "There was more freedom for me to explore my interests in oriental painting."
In Suh's painting, she selected Eiben Hall to be the centerpiece of her painting with Diamond Head right behind it. She also painted a lake, which was inspired by her travels to Iceland. While these two pieces of art are separate, she took the visual aspects that she enjoyed from both areas (Hawaiʻi and Iceland) integrating them into her paintings.
"The flowing, abstract shapes in many of her works are tempered by sharp edges and simple forms that ask us to consider many different ways of knowing the self and world," said Cheryl Edelson in a letter published to congratulate Ha on her exhibition at the university. 
In the pamphlet for the exhibition, Ha referred to her students as artists, even if they previously had no experience in Oriental painting before her class. 
"It's a humbling thing for her to think that we are artists," Magpantay-Monroe said. "The inspiration for her is 'I teach you, and you teach others.'"