Every year, Chaminade students are given the opportunity to enter a business competition. This fall, four students came together to kick start their own business known as Re-Thread. Carol An Nacario, Kelsey Sablan, Liz Devine, and Epifania Petelo joined forces to create a stylish and sustainable business that takes used clothes and manually unstitching it to then sewing it into pouches of various sizes. 
"Re-Thread basically takes used unloved clothes and upcycles it," said Sablan, a fourth-year Communications major also minoring in Business and Marketing. 
The pouch (the business' only product) has a drawstring design that can be used for organization purposes and can hold many items such as a phone, wallet, keys, jewelry and more. 
Re-Thread, part of Chaminade's Silversword Business Competition primarily for Business, Marketing, and Economic students but open to all, is making an appearance at the Campus Open Marketplace on Wednesday from 10:30 a.m. to 1:30 p.m. on Zuberano Lawn and in the Loo Student Center. Each student business was given $250 from Chaminade's School of Business and Communication to start its business. Re-Thread has used about $70 of that money so far on clothes from Goodwill to help expand the fabric collection. The rest of its fabrics come from donated clothes from the team and/or the team's friends and families. 
Re-Thread announced its business on Oct. 5 via an Instagram post that said it will be launching soon with a caption of "old clothes have so much potential," hinting what the upcoming product will include. Since then, its business account has gained 117 followers and roughly 2,000 impressions (the number of times content, whether a post or a story, has been shown to users).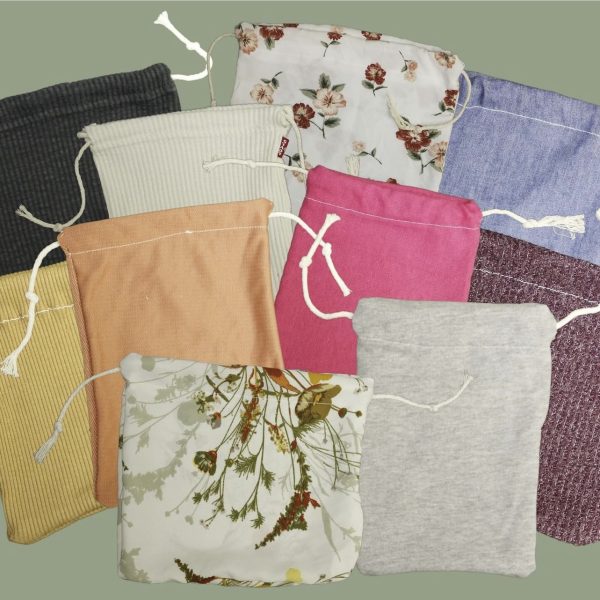 Following the announcement on Instagram, customers were able to purchase their "one-time design" product through the website that launched on Oct. 16. The business has sold roughly 20 pouches since then on the website alone. 
The four sizes it offers are extra small ($3), small ($5), medium ($6), and large ($7). As a student-run business, Nacario, the business' operations manager and team leader, said she felt that the prices for the pouches should be suitable for college students. 
"Because our target market was college students, we wanted to really have it at a lower cost," said the fourth-year Business major. "Since sustainability is expensive, we thought this would be a great way for college students to be able to at least help participate in making an impact for the environment without breaking their wallets." 
When looking for students to help her build a business, Nacario instantly thought of Sablan, a dear friend and someone who is familiar with marketing and communications. Sablan was more than willing, handling the social media and outreach as the marketing manager. Both then recruited Petelo, who is the financial manager, and Devine as the production manager.
It was originally Devine's idea to use old clothes and repurpose it. However, being the only one who can sew, she had to teach the others how to sew to make the production process faster.
Advertising for Re-Thread originally began amongst Chaminade students but quickly became open to customers outside the university's community. As the business grew, it branched out to off-campus where it hosted its first official pop-up at Kaka'ako Farmers Market on Oct. 21. 
With the numerous positive feedback from peers, the business has thrived. However, Re-Thread will no longer be in production as the last batch of pouches will be available for purchase at Wednesday's Open Marketplace and/or its website, which will be closed for good on Thursday at 10 p.m.. Although the business was short-lived, students were able to gain useful insight of what it's like to running a business.
"It's beneficial for students who are doing the competition because we get to really see first-hand the framework and work that goes behind making a business because we're taking everything we've learned in these classes and actually applying it," Sablan said. "It's so fun to use all the terminology we've learned like gross profit, consumer, and target market."