Audience members might have seen a familiar face amongst the performers at the annual PIR event on Friday. Isaiah Atalig was a part of Tao Tao Marianas, Chaminade Micronesian Club, and The Filipino Club which were three of the clubs that performed. The Pacific Island Review is an annual event for clubs (Hawaiian Club, Tao Tao Marianas, Chaminade Micronesian Club, The Filipino Club, and Lumana'i O Samoa) to showcase their cultures. 
The third-year Forensic Science major chose to participate in those clubs to experience the cultures and to perform with his friends. For Micronesian Club, the male students performed a traditional stick dance, and for The Filipino Club, they did the traditional Tinikling dance.
When asked about the difficulty of being in three clubs, Atalig responded that it's normal for people to participate in multiple clubs, but the challenge for him was memorizing each of the seven performances.
"For Marianas Club the dances were simple, so it was just a matter of perfecting the chants and having it down," said the Marianas Club president. "The same goes for Micronesian and Filipino clubs; I was just focused on doing my part and being in the moment."
This is Atalig's second year as president of the Marianas club, and he was excited for this year's PIR. Atalig points out another important part about being president of the club.
"Being the president of Tao Tao Marianas is a blessing because I know a lot of people that came here, and representing my people is a big thing for me," Atalig said.
He also notes that the Marianas Club missed out on last year's PIR due to not having enough time to prepare, so participating in this one brought some rejuvenation back into the club. When asked about his contributions to the club as president, Easton Delacruz, who just recently joined the Marianas Club and sang and played the guitar during PIR, had high praise for his president and friend.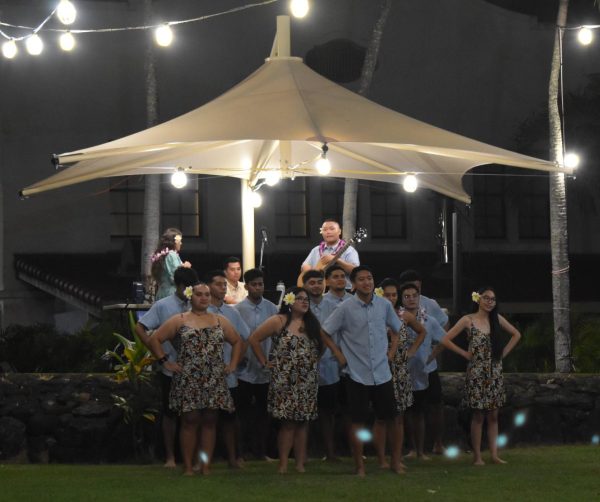 "I've known Isaiah since I first came here," said the Integrated Marketing Communication major. "As a president and leader, I believe he is great because he is respected and we look up to him." 
John Iose, a fourth-year student here at Chaminade, was also not short of words when it came to describing Atalig. Adding on to what Delacruz said, Iose pointed out that Atalig is adaptable and good when working under pressure. Iose said Atalig's work ethic helped inspire the Marianas Club to have a good showing at PIR.
Originally from Guam, Atalig made the journey over to Hawaii to attend Chaminade University in 2021. His main reason for choosing to come here was to prove something to himself.
"I wanted to challenge myself academically, and also to see if I could be independent and make it on my own out here," said Atalig.
Although he is 3,945 miles away from home, Atalig notes that there are similarities between Hawaii and Guam. He noticed that in his time here, people help each other and support one another.
"It's something that I've noticed, and it's nice to see because it reminds me of the vibes from home," said the third-year Forensic Science major.
Atalig also gives credit to his fellow peers here at Chaminade for making him who he is today. He describes that his original plan was to keep to himself and focus mainly on the academic side of school. But over time he has evolved and has become a social catalyst. Through other people, he has become more vocal and outgoing.
Aside from being president of the Marianas Club, Atalig has also been heavily involved in Campus Ministry. Atalig has been involved with campus for two years and has participated/helped with many of their events. Some of those events include being one of the participants for the first student leadership team, leading Bible studies, and organizing the praise and worship event "Jamming with Jesus." 
Father Chris Wittmann, who is one of the brothers of Campus Ministry, was excited to see Atalig engage in these activities and specifically take on a leadership role. Most notably, Father Chris talks about his participation in the Awakening retreat, from being just a participant last year to helping lead the retreat this year.
"To get up in front of your peers and talk about your faith is a little bit of a risk," said Father Wittmann. "It takes courage, faith, and confidence and it's great to see Isaiah do that."