Tucked between Kieffer Hall and Hale Malia, Mitch Steffey and a team of five student workers have kept the campus garden up and running. In its fifth iteration, the campus garden has seen its fair share of ups and downs. The one constant, however, is the hard work put in by Steffey and his team.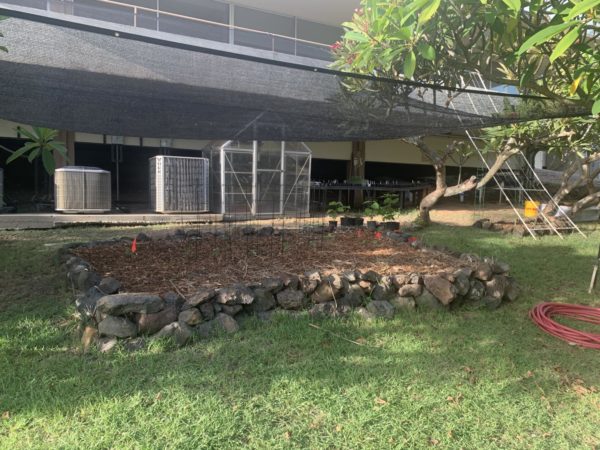 As the associate director of Service Learning and Community Engagement, Steffey understands that the garden does serve a purpose for growing vegetables and spices, but he wants it to be recognized for more than that.
"The garden is not mainly about the production of the food or the flowers or the natives or any of that, it's about the relationships that we create around those spaces," he said.
Steffey also wants his student workers to focus on their relationship with the garden, instead of worrying solely on the outcome or distribution of what is grown. 
"I don't care about the tomatoes," said the Pittsburgh native who is in his fourth year at CUH. "I care about your relationship with the tomatoes and how you've seen them cultivate and you've tasted them and made that connection. If you grow something and you're super excited about this certain thing and you have a plan to give it away and it doesn't grow, what did you learn from that?"
Kahoaliʻi K. Keahi-Wood originally ran the garden, who teaches biology and is the cultural engagement specialist here at Chaminade. Steffey took over the responsibility of overseeing the garden last November. The first major challenge for him and the student workers was the soil that is used to grow vegetables and spices in the garden. Kalaepohaku, the area which Chaminade is located, in general is very dry and humid. Steffey noted that this heavily impacts the quality of the soil.
"You have to have water and soil, and if you don't have good soil or water, there's no point in being there," he said. "We have water, but the soil is not great."
Since November, the primary focus of the team has been the restoration of the soil through composting, which has been a huge part of what the group has been doing.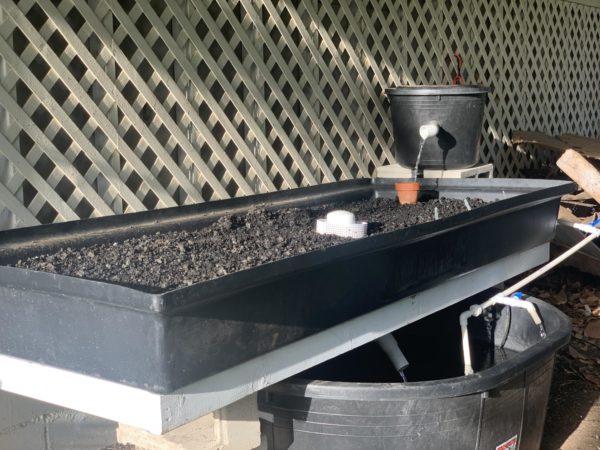 "We were able to compost 75 pounds a week of food starting last February through the end of school, and in this semester we'll start with 75 working our way up to 100 pounds a week," said Steffey. 
Steffey lets students decide what to grow in the garden. Usually, the garden grows vegetables and spices. In five sections, the students have chosen to focus on native plants (Kaʻiʻinipuʻuwai "Mini" Keliʻhoʻomalu-holz), food (River Pitcher), pollinators (Makaʻala Ng), kalo (Kaimipono "Pono" Fisher), and aquaponics (Lihau Keoneula-Stender). Each student focuses on those sections and work together to help keep the garden functioning.
Pitcher, a third-year Environmental Studies major who wants to continue with similar type of work after graduation, said the most rewarding part about working in the garden is the full-circle systems.
"[That means] being able to pick up food waste from around campus and then give it to our worms to produce soil," Pitcher said. "Then being able to use that soil in our garden beds and grow plants and food, to then using that food waste to put back into our composting systems."
When asked what the plans are for when the vegetables and spices are ready to harvest, Steffey wants nothing to be sold but instead given away for free. He visions this being done by monthly salad giveaways around campus. 
"I really want what we do to be seen as service to the community but also as a gift giving culture," Steffey said.
Additionally, Steffey hopes that in the future Chaminade offers more courses that emphasize the types of food or plants that are grown here on campus.
"It would be cool to have courses work on food and security or having a relationship with the food outside of their classes that they might not know even exist," Steffey said.
If students wish to help the team with the garden, they can email [email protected] or simply just show up. 
Garden hours
Monday: 11 a.m. – 5 p.m.
Tuesday – 2 p.m. – 6:30 p.m.
Wednesday – 12:30pm – 5:30pm
Thursday – 9am – 6pm
Friday – 12:30pm – 4:30pm