Anastasia Tangatailoa, a third-year student from Lihue, studying Criminology and Criminal Justice was walking to class from her Hale Pohaku dorm when she unexpectedly started her period. 
"As I was walking, I realized 'shoot' I just started my period, and I don't have anything on me. So when I walked into the bathroom, I remembered that there were already products that I could use," Tangatailoa said. "These products saved me in a couple messy spots, so I'm thankful." 
Period products have been showing up in bathrooms across Chaminade's campus. The project, called GEMM, or Gender Equity ​​Through Mālama Maʻi, is partnered with CIFAL, a United Nations research and training center. (Maʻi is the Hawaiian translation for sickness, but is most commonly referred to when describing a woman's menstrual cycle.) The menstruation stations have been a big hit among students on campus. 
"There has been a lot of usage, more than I anticipated," said Rhea Jose, the outreach coordinator for the CIFAL Center at Chaminade University. "But it goes to show that there is a need, and I am grateful that everybody is using the products." 
The products are placed in seven bathrooms around campus including the garden-level of Clarence TC Ching, the Henry Hall lab floor, the Sullivan Library bathroom on the bottom floor near the Client Services Department, the bottom floor of Eiben Hall, a bathroom on the upper floor of Eiben Hall, and the pink bathroom in Kieffer Hall. 
"We picked those seven places because we wanted them to be high-traffic areas," said Aleeyah Lemons, the co-director of GEMM and a fourth-year student from Ewa Beach studying Environmental Science. "We had in mind what students wanted but also what faculty wanted as well because it's not just a student initiative, it's also for faculty. So that's why we put it in the bottom level of the library because a lot of faculty use that. But our goal is to put it in all the bathrooms."
Inside these menstruation stations are pads, tampons in both regular and super sizes, wet wipes, micro-liners, and disposable heating pads. All the period products are organic.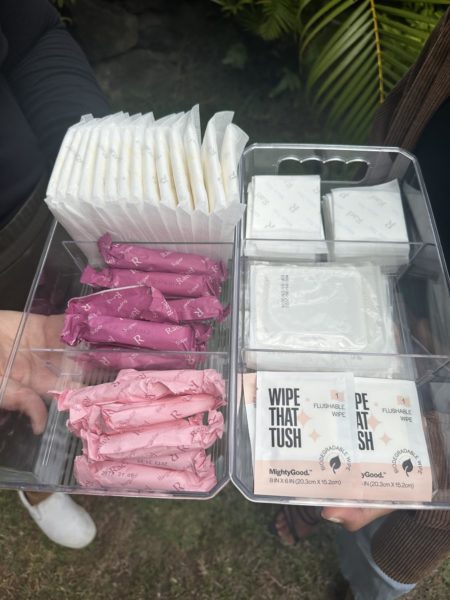 "But when you see talk about organic and sustainable maʻi products it's just healthier to use because you don't really know the ingredients used in the different pads, different tampons, and do people even know about the cardboard-tip applicators?" Jose said. "I like the idea that there are no additives. I want to ensure that the products that we are providing for students are as safe as possible, promoting an organic lifestyle." 
GEMM was able to fund its project, which first placed products in bathrooms on August 21, the first day of classes, through a grant offered by Chaminade called the Marianist Sponsorship Foundation, and from it, was awarded $10,000 for one year. Moving forward, Jose and Lemons plan on using the money not only for products to place in the menstruation stations but also to expand GEMM to cover more gender equity issues as well.
Jose and Lemons plan to start a women's health seminar on how the menstrual cycle affects a woman's body from the first menstrual cycle to menopause. Since Jose is the CIFAL outreach coordinator, her demographic expands beyond Chaminade students. She hopes to be able to reach out to the other Pacific islands as well. 
"I want to be accessible not only to the Chaminade campus but to the whole community, also to the Pacific," said Jose, who is from Guam but is Palauan. "I want it to be more inclusive and more shared."
GEMM would like to work with other Pacific islands in an effort to spread awareness of the health behind menstruation products. Jose and Lemons have an idea of creating an infographic of facts about the menstrual cycle but in the native languages of the Pacific islanders in hopes that more people will be able to understand and have access to the infographic. 
"I have never seen a service like this provided, so it's nice to see it at Chaminade," said Alexia Mae Eleccion, a first-year student from Pearl City studying Psychology. "It encompasses the idea that Chaminade really cares about its students and is willing to provide resources for us to do well."
The products that are provided in the menstruation station were also passed out individually to students in the Hale Lokelani, Chaminade's freshman dormitory residence, in reusable bags called kits. Students who receive a kit are able to visit Jose's office in Wesselkamper and be able to refill their kit at no charge. GEMM hopes to be able to expand this effort to the other dormitories on campus as well.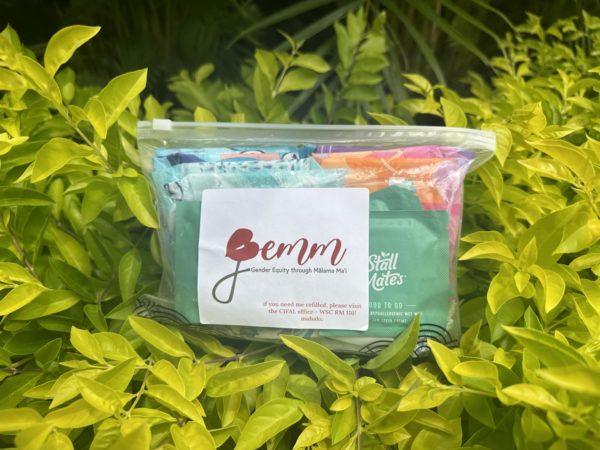 "We want people, our students, our faculty, and a part of our Pacific community as well to feel safe about talking about their menstrual cycle and have the products they need if they are unable to get it at the time," Lemons said.
GEMM is not partnered with Maʻi Movement, the largest organization in Hawaiʻi to aim to end period-poverty in the state. While Jose and Lemons received mentorship and resources from Mālama Maʻi, the two organizations are unconnected. 
Jose and Lemons hope to be able to expand the individual kits to the other residence halls on campus and expand the diversity of the products provided in the menstruation stations in the future. 
"I want menstrual products to be treated as if it were toilet tissue," Jose said. "I want it to be in every restroom continuing on."