International Roster Helps to Lead CUH Volleyball This Season
When Greta Corti left her home in Italy to play college volleyball at a university in the United States, she felt the weight of culture shock and a new life.
"When you leave, you think all the people will be like you," said Corti, a 6-foot-1 sophomore outside hitter on the Chaminade women's volleyball team. "When I left I expected the whole world to be like Italy." 
Playing more than 8,000 miles away from home, four international volleyball players decided to embark on their journey at Chaminade University. From culture shock, language barriers, and a completely new environment, Italian natives Corti, Sasha Colombo and Ajack Malual and German Sophie Schilling describe their new life in Hawaii as they help lead the Swords to a 13-6 record (8-0 PacWest Conference). 
The Lady Silverswords — coming off a school-record 27 wins, PacWest title and a NCAA West Regional berth — got off to a rough start at the beginning of the season, losing six of the first eight matches. With plenty of new additions to the team and some time to gel with one another, the Lady Silverswords have gone undefeated so far during conference play and lead the PacWest. They have won 10 straight matches, dating back to  Sept. 3 against Seattle Pacific. At one point the team won 20 straight sets, which is a new school record.
An upcoming eight-game home game stretch, starting on Sunday against Hawaii-Hilo at McCabe Gym (3 p.m.), will be a big factor in conference play for the Lady Silverswords. 
"I like that the volleyball team offers a base for your relationships and they get to be your family, wow I am sounding very American right now," said Corti, from Varese, Italy. Originally starting her college career at University of San Francisco, California, she was looking for change and took a chance moving to Oahu.
On the court she has played in every set this season, leading the team in with 32 aces and 218 digs. This week she was named Pacific West Conference Player of the Week. She captured this honor through 38 kills and 48 digs against against Concordia University Irvine, Point Loma and Azusa Pacific.  
Freshman Malual, a 6-1 right-side freshman hitter from Trento, has been working hard after a break from volleyball before college. She had a career high of nine kills in a win over Point Loma.
"I am so excited to see what we can achieve as a whole," Malual said. "I quit volleyball two years ago so this is my first experience since, so I cannot wait to do beautiful things."
Her journey to Hawaii was thanks to teammate Corti. She would see Corti post beautiful photos of Hawaii on social media and thought it looked like an amazing place to be. While Malual has said life in Hawaii has been amazing and loves learning and trying new things, there has been some adversity.
"I came here with no expectations, which is why the culture shock was so hard," she said. "Trying to express yourself in another language is so hard."
At Chaminade, the small class sizes and helpful professors have been making this process a little bit easier for Malual. She has only been here a little over a month but is looking to explore more beaches, foods, and the Hawaiian culture.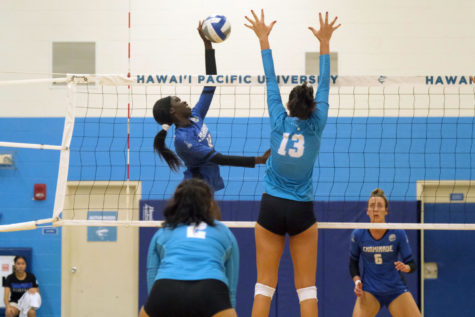 Hawaii was a hard opportunity to pass up for Colombo, a 6-2 right-side hitter from Milan. She is completing her MBA and competing in volleyball in the middle of "paradise". 
Previously competing at Colorado State, she was the only international student and was able to capture Mountain West Conference honorable mention twice. Now she can compete with her former friends from Italy by her side in Oahu. She leads the team in kills and was PacWest Player of the Week in late September. Outside of volleyball Colombo feels like a "tourist" as she goes around the island trying new tropical fruits and her and her teammates favorite, mochi.
"Every time I go out, I am amazed that I live here," Colombo said.
Other factors have drawn in international student athletes, like learning a new language.
"My motivation to go to America was my English was really really bad," said Sophie Schilling, a 6-1 senior middle from Berlin.
Writing papers, communicating to friends, and learning the volleyball language in English have been a few challenges Schilling has run into since being in America. Volleyball has been a positive experience for Schilling, as it has for other international athletes are making their mark on the Chaminade program. She describes Chaminade as a "melting pot" for volleyball and she loves meeting new people. Sophie is another leader on the team being fifth on the team in scoring and third in blocks.
"Learning the land and the Hawaiian culture, there is a lot of self-exploration," Schilling said. "What you want and what you don't want out of life. You get challenged more here than at home."