OSAL Director Joseph Granado Says Goodbye to Chaminade
Joseph Granado's career has taken him all around the world, from Greece to Egypt to Malaysia and then to Hawaii as the director of the Office of Student Activities and Leadership (OSAL) and advisor for Chaminade's Student Government Association (CSGA) since 2019.
His next step will be adding another state to his long resume when he leaves on Wednesday to become the dean of Student Life at Providence High School in Burbank, California. He will oversee the student activities, student government, staff director, athletics director, and administrative assistant.
"The hardest part about my job is when students leave, the harder part of my job is knowing when it's your time to leave," Granado said.
Granado said that he has to go where there is a need as opposed to where there is a want. And he can do that at his new school because while visiting the Providence campus in July, one of the students told him, "we need someone who cares about us," and that meant everything to him.
Granado, who was born and raised in Texas, has experienced both the good and difficulties here in Hawaii. He said he truly believes he has the best job on campus and that his students at Chaminade are the best. His primary role at the university was to oversee all of the clubs and organizations on campus, served as a committee member of the Marianist Leadership Center, and coordinated large-scale traditional events such as Pacific Island Review and International Extravaganza.
"As the departure becomes closer, I think I've realized, I've left the place better than I found it and I am leaving it in good hands," said Granado. "I get to see students in all aspects of their lives, the good and the bad."
But struggles during the Covid-19 pandemic occurred just shortly after Granado arrived to Chaminade. 
He spent two-thirds of his life in Texas and the last one-third of his life traveling, so when Covid left the residence dorms lifeless and had him isolated in Hawaii, it was difficult to envision how to create student programs and engagement from nothing.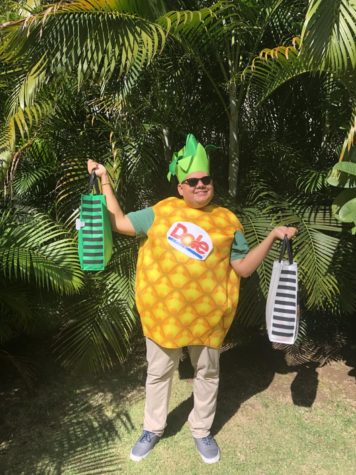 "Students like Sean Lorenzo, Pamela Oda, and Kobe Ngirailemesang were hired during Covid and they stuck with me, even when their road got rough and it was only six of us," he said. "They saw how much I was not giving up and as a result, they also didn't give up." 
Granado said he is most proud of the grit that his staff from OSAL had during the pandemic.
"For him, he said we were his home away from home," said OSAL's communications and technology manager and CSGA's president Pamela Oda. "So being that we could be there for him and help him achieve the goal he wanted for the office and student engagement overall is what kept him here."
For Oda, Granado has been the main person who's mentored her through a lot of her leadership ever since she started working for OSAL from the very beginning.
"He became my best friend on campus and someone I look up to, and he's been a role model that I always turn to," Oda said. "Joseph said 'leaving a legacy' and that's what we want to keep is his legacy going, all the things that he embedded into OSAL."
From everything that Granado has taught his students, he hopes that they remember the lessons he taught them so that they can perform at a higher level without him around. He said he also had very specific goals when he first came to Chaminade that included solidifying the OSAL office and working on the leadership development aspect. 
"A lot of what I've done with my staff and students that I work with directly is to impart that wisdom and knowledge so that they can function without me," he said. "The biggest compliment an educator can ever receive is when the student becomes the teacher and passes on the information they learned to others and perpetuates the legacy."
Granado said the hardest part about him leaving is that even though he doesn't want to go, he doesn't feel the need to stay since he has already imparted the knowledge and skills his students will always have with them to be leaders.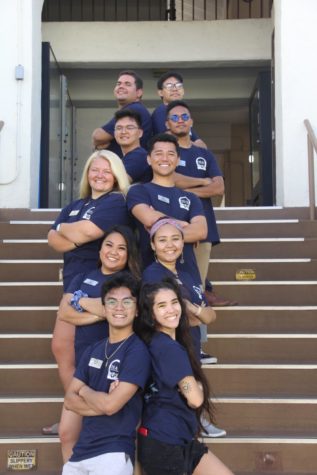 "All of what I do as an educator is to pass on information, wisdom, and knowledge," he said. "So that in my absence, it continues." 
For one of Granado's former students who now works with him in the OSAL office, he said Granado has always put his whole heart into his work and his students could tell.
"It's a bittersweet thing because it's sad because he adds a lot to this campus and contributes a lot, and he whole-heartedly and genuinely believes in the mission of this school," said OSAL's Activities Coordinator and Chaminade 2021 Biology graduate Andrew Ancheta. "What Joseph brought to the table was his personality, his energy, and authentic self."
We know the great impact and mark Granado has left on Chaminade, but for him, the university and Hawaii will always have a special place in his heart too because of the people he met and obstacles he had to overcome.
"The people you meet here are unlike any other people you'll meet in the world, and I can say that because I've been around the world," Granado said.