Out-of-State Students Rely on 'Adrenaline' to Survive Time Differences, Fall Semester
The pandemic has created all kinds of changes to Chaminade University's Fall 2020 semester. From temperature checks and C.D.C. screenings to socially distanced classes, these changes were installed to ensure the safety of the CUH ohana. Among the many changes, Chaminade University gave students the decision to opt out of in-person classes and participate/foregoing online schooling during the fall semester.
As most Chaminade students have opted out of attending in-person classes, some of Chaminade's diverse student body is performing their online classes from drastically different time zones and countries/territories out of the U.S.  These students remain healthy in their respected time zones and battle with sleep deprivation, unusual class times, as they make their way through a far from the ordinary semester.  
"We got this and we're going to get through this together," said Adora Erguiza, who has spent this semester in her home in Guam. "I rely on adrenaline, pure luck, prayers, and a lot of sugar to get me through the time zone differences."
For 20-year-old Guam native Adora Erguiza, her main reason for opting out of in-person classes was because of her concern for her health and her family's health, along with the rise of Covid-19 rates in August. So she's been completing this semester at Chaminade 3,800 miles away from her home in Guam.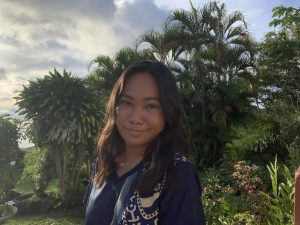 "I have opted for the sake of my health," said the junior Elementary Education major. "Over in Hawaii, I have no family members, so hypothetically speaking, if I were to become sick due to Covid-19, I don't have people who I can call and say, 'Hey come to the hospital with me. Can you do things like that?' I do have my friends, but none of them have cars so that they can take me to the hospital or visit me. And, you know, just to have someone family-wise to be there with me and support me in the absence of my parents, since I would be here and they would be there. That was my main thing and my overall concern for myself. I live with two elderly people my grandparents, and my parents who have compromised health issues as well. So I am the only one in just my household who doesn't have any major health issues, and I did not want to be the cause of anything bad should I come back, I carry something, and it affects them so I figured it's better if I just stay here."
Guam is a U.S. territory that is 20-hours ahead of Hawaii and shifts Erguiza's schedule to the following day. For example, her Tuesday-Thursday classes on her semester schedule are actually Wednesdays-Fridays in Guam. Her 10 a.m. class in Hawaii is at 6 a.m. the next morning in Guam, meaning she has a 5:30 a.m. wakeup so that she's alert and ready for class. Her Peer Mentor class (CUH 100), where she's a teacher's aide, starts Thursdays at 8 a.m., which is 4 a.m. on Fridays in Guam.
"I just don't even sleep," she said. "I just stay awake the whole time. I have to kind of force myself to be present and be awake for the sake of my students and not feeling like an unprepared teacher's aide."
Despite not being able to sleep and waking up in the wee hours of the morning, Erguiza keeps a positive mindset and remembers the benefits of being in the comfort of her own home while attending class.
"To me, that's just cool because I'm in class but I still can be here in bed, even though that makes me look very bad versus I go to the classroom, and you've already used to how it goes," Erguiza said. "But here, I can have everything I need in front of me. I don't have to rush to class and fear I'm going to be late just physically getting there. To me it's just you log on, you sit there, and you just have to remember you have class at this time. That's it."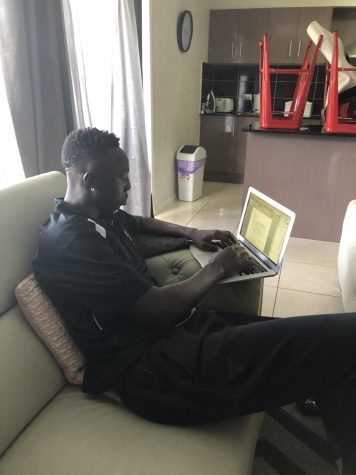 Irvin Sabwa, a freshman Environmental Science major, is currently back in his home country of Kenya performing his online schooling for this semester and found adjusting to it was easy knowing that he can help his family out during this pandemic.
Sabwa opted out of in-person classes because Covid-19 placed a travel ban on Kenya around the time school was starting. Although it is now lifted, it is still very difficult to fly to Hawaii with the rules and regulations along with the price to fly here from Kenya. In addition to those factors, the first-year CUH student also wanted to wait for the elections to end so that all the drama regarding the election would die down. He plans on being on the Chaminade campus when the spring semester starts in February.
When it comes to time differences, Kenya is 13-hours ahead of Hawaii, forcing Sabwa to typically attend classes from 2 to 5 in the morning. Despite waking up early, a big challenge with his time difference is getting confused with his class times. A class in Hawaii that's on Mondays at 1 p.m. is Tuesday at 2 a.m. in Kenya.
"Along with meetings, I need to make sure I have the right timing when I'm planning meetings with people in Hawaii," he said.
Akot "Bill" Awet is back at home in his country of Australia. The a 24-year-old Communications major opted to do online classes during this time because Australia had banned all international flights during the time when the semester first started. Australia has a 21-hour time difference from Hawaii and is ahead; because of this his classes and his professors are very understanding and allow flexible work submissions according to his time zone.
"I've been doing Zoom for my classes," said Awet, who also competes for the Chaminade men's basketball team. "It's been an okay experience. At the beginning of the semester, I was expected to attend Zoom sessions but toward the end, my teachers started recording the sessions and sending them to me."
First-year CUH student and Accounting major Jim Michael Ham chose to stay in Saipan during this ongoing pandemic because of the uncertainty with Covid-19 and his parents' concern for him traveling to Hawaii. He was disappointed and sad to spend his first semester of college online and never had imagined his first college semester to be this way.
In the face of his disappointment to spend his college semester this way, the 17-year-old's online experience has been "good for him."
"Although the Zoom sessions for some of my classes are not mandatory, I still take part in those Zoom sessions, because if ever I have questions, I can ask my professor during that session without having to email them and wait for a response," Ham said. "Also, taking part in a Zoom session allows me to communicate and converse with my professor and classmates, similar to an actual in-person college lecture/class. The only challenge I faced regarding online classes is the time difference, wherein I have to wake up early in the morning."
Like Guam, Saipan is 20 hours ahead of Hawaii. Ham has to wake up early in the morning to attend his Zoom class sessions then goes back to sleep to wake up around 12 p.m.
"This has made me feel a bit more sluggish than usual, with me sometimes having to resort to short afternoon naps to keep me energized and awake throughout the day," he said. "Because of this, I tend to be more active and do most of my school work during the night."