Finding Love in the Time of Covid
Dating is challenging as it is and even more so with Covid-19 in the mix. Now that everyone is wearing masks in public and the social scene (bars and restaurants and clubs) is restricted, people have found their own way to get into relationships.
Rianne Sanchez, a 24-year-old Elementary Education major at Chaminade University, was able to go against the odds and found a compatible partner despite the fear of Covid-19. She met her current boyfriend, 24-year-old Bailey Pan, through mutual friends. They had been friends with each other for two months and began dating at the beginning of October. Not even a week after they started dating, one person tested positive for coronavirus at a party they both went to the Saturday prior. They decided to get tested and Sanchez's test came back negative, while Pan's came back positive.
"We both liked each other and wanted to make it work," Sanchez said. "And we knew we'd see each other again so we planned things to look forward to after we both got out of quarantine. We FaceTimed and texted for two weeks straight and by the time we were able to hang out again it was like no time had passed. … I would say that finding love is well worth the risk of catching Covid."
Chelsey Ishikawa, a junior at Chaminade, and her 21-year-old boyfriend Arel Ruiz have been together since early September. Ishikawa was in her friend's passenger seat during one of their usual car meet-ups at the Wal-Mart parking lot in Pearl City when she was introduced to Ruiz through mutual friends. She admits they didn't hit it off right away since they were both shy around each other but explained that this demeanor was dropped after their third interaction at another car meet. She asked to see his car, and he invited her inside where they realized that they clicked.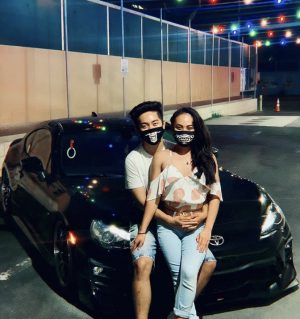 "It was like we had an undeniable chemistry between each other," Elementary Education major Ishikawa said. "We both felt really comfortable around each other, and it was super easy to have a conversation with him. I feel like we've been friends for years; it's crazy how it has only been a couple of months. … Covid couldn't have stopped us from getting together, that's for sure."
After the two weeks of meeting for the first time, Ishikawa went further into detail saying how seeing each other during the car meetups once a week was not cutting it and they both decided that they wanted to see one other more. From that point foreword, the passenger seat in Ruiz's car became her seat and before they knew it they were dating. The pandemic didn't make a huge difference in the cultivation of their relationship, their relationship happened quickly and they started to see each other every day and stayed over each other's houses.
For 20-year-old Kamlyn Ikeda, being an Interior Design major at Chaminade takes up a lot of her time. Since Ikeda is living at her home in Mililani for this school year and has limited interactions with people, trying to date people during the pandemic poses a big challenge to her. Social media allowed her to connect with someone in Hawaii Kai, the other side of the island, that she wouldn't have casually seen by running errands with her family.
Through mutual friends on Instagram and real life, Ikeda knew that the guy she was interested in was legitimate and followed him to see a brief glimpse into his life and hobbies. She noticed that they have a lot in common, from skateboarding to friends to a similar interest in music. Instead of waiting around for him to message her first, she sent a DM (direct message) in October and they hit it off immediately. They talked every day for two weeks and decided it was time to meet each other and went to the beach on their first date.
"Although Covid-19 really got in the way of dating, I think that nowadays a lot more individuals connect with people through social media," Ikeda said. "It's not all that uncommon to meet people on Instagram, since you get to see what they look like."
The dating scene can be challenging to navigate through and even harder to find someone you like enough to keep around. Adding a pandemic to the equation may have made times more stressful in regards to doing your part to avoid contracting or spreading the virus, yet students from Chaminade agree that finding someone is well worth the potential of catching Covid-19. No matter the person or situation, it's clear that life inevitably goes on, whether or not there is an ongoing pandemic.
"Personally I feel like it's hard to tell whether someone is cute or not because everyone's wearing a mask, so I'd prefer to date through online sources," Ikeda said. "Life is too short to wait around."