2 CUH Students Become National Fellows with NASPA
Aiea native Andrew Ancheta has been a student for four years at Chaminade working toward a career in the medical field, specifically aiming to be a pediatrician. While balancing a full plate between his studies, Ancheta is also the vice president of Chaminde's Student Government Association (CSGA) and a devoted member of Campus Ministry.
His calling to become a doctor took a sudden turn when he was introduced to the objectives of the National Association of Student Personnel Administrators (NASPA).
"At the end of the day I want to help people and for a while I thought that being a doctor was the way that I could do that," the senior Biology major said. "But getting involved in NASPA has broadened my horizon and my perspective on other ways I can help people."
NASPA aims to increase the number of historically disenfranchised and underrepresented professionals in student affairs and/or higher education. Its goal is to help give everyone a voice, regardless of their background. In the past Chaminade has had one student recognized with the acceptance into this national program, but this year we have two students.
Ancheta as well as Eri Leong are new members of the 2020-21 class of NASPA undergraduate Fellows program. Students and mentors apply as a pair for this program and, once accepted, the students and mentors spend a year with access to scholarship opportunities, on-campus mentorship, as well as professional development.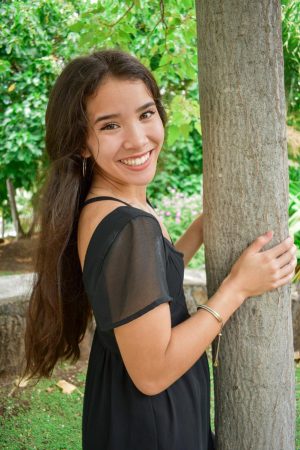 The journey for these two students both began with the mentors they chose to guide them on this trek toward their potential careers in student affairs. Ancheta was introduced to the opportunity by Joseph Granado, Chaminade's recently admitted Director of Student Activities and Leadership (OSAL). Fortunately for Ancheta, Granado was also accepted into the program when he was a college student. Leong was introduced to NASPA by Dean of Students Allison Jerome. Leong has collaborated with Jerome in the past on the Marianist Leadership Committee at the Marianist Leadership Center as well as a workshop run by the center covering identifying strengths and talents as a leader.
"This opportunity gives her a chance to explore more in depth what a career in student affairs looks like," said Jerome of Leong. "Her top trait is w.o.o., … winning others over, and that's a great trait for someone to have that really wants to do anything with people." 
Sophomore Communications major Leong was unaware of the possibility that a program like NASPA even existed. Before applying, she had no intention of making a career out of student affairs, but after learning more and receiving acceptance, she is both grateful and excited for the opportunity. Although she still has more to learn about it, she hopes to gain a better understanding of herself and the ways she can give a voice to the voiceless.
"I just hope to be wiser," said Leong. "I hope to be more aware of the people and the perspectives I have available to me that I can tap into. The types of voices I've never been exposed to and I hope to be a more cognitive member of society and one that is more structured and more mature."
Both Ancheta and Leong are excited to learn and develop new skills that they will be able to use and incorporate into their future careers. As the two most recent students to receive this recognition, the school hopes that more students will be able to take advantage of this opportunity in the future. Due to outbreak of coronavirus, they were unable to reach out to more people but have big plans of doing so next year.
"That's the whole point of this program is really to get more students that may not have the opportunity to be exposed to things like this," Jerome said. "We have had one student do this before, so hopefully after Eri and Andrew, we will have more students take advantage of this opportunity in the future."