Chaminade Alum Creates Clothing Line During Pandemic
As Hawaii was forced into their homes not only once but twice, to follow the stay-at-home and work-from-home regulations mandated by Gov. David Ige, this gave many the time to find a new hobby like baking and cooking. But for others, it opened up opportunities like starting your own business. For Chaminade alumnus Kevin Anderson, starting a business during quarantine was the perfect opportunity.
Anderson was laid off from March 19-April 19 and then from late August until Sept. 25 from his retail job at Honolulu Surf Room at Kahala Mall. This allowed him the time to create his clothing line called Only The Good, which launched on Sept. 5. He started with a small inventory of about 40 items which included, regular tees, pocket tees, crop tees, crop hoodies, regular hoodies, and stickers. He sold 30 items within the first week of opening his online store. 
"The vision is the representation of positivity and optimism," said Anderson, a Honolulu native who graduated from Chaminade in the spring. "I got the idea because … everything in the world that was going on is going bad, and all of the negative things, I kind of wanted to bring light to the situation. Thinking about only the good, that's kinda how I got the idea."
Starting a business is not easy. According to Forbes, when starting a business as an entrepreneur, there are many business tasks that need to be dealt with such as legal, financing, sales, and marketing and liability protection just to name a few. Starting a business also comes with having to create your designs, logos, slogans, product, and finding the right market of people to sell to.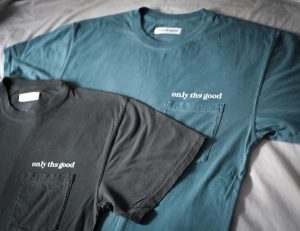 "It was fun to see him get creative through the process," said 23-year-old Noelle Mercado, who is also Anderson's girlfriend.  "He made a lot of different designs and took a risk looking into manufacturers and investing in something he truly loves and believes in. I'm really proud of him and love his image of focusing on the good. He worked really hard and I love seeing his vision come to life."
At first look, the design and the logo are very minimal, but when you take a closer look at the logo, you notice that the "e" in the word "the" is backward.
"I made the 'e' backward," Anderson said. "Honestly because I kinda wanted to give it a little extra character. Without it, it looked a bit boring. It's sort of like an eye-catcher and the 'e' backward looked the most clean compared to the other letters."
With the power of the internet, Anderson was able to do research on what he would need to achieve his goal of bringing his company to life, he also had the chance to ask friends about their journeys as entrepreneurs. From his research, he was able to find a wholesale company to get his clothing items from and has also asked friends, who have created their own business, for advice.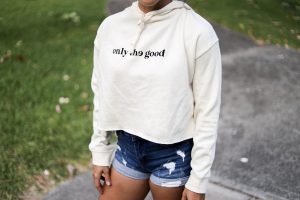 "His work ethic is being really organized from the beginning," Mercado said. "He created Excel sheets and kept track of all units, pricing, and documented everything in a similar way as HSR (Honolulu Surf Room) does it. Kevin said working there really helped him to find a good system."
Anderson is trying to sell products every day and right now he is currently selling hoodies, tees, and stickers on his website. He also hopes to collaborate with his friends and bring in new items and designs.
To find out more about Anderson's business Only the Good, check out the website or Instagram at onlythegoodclothing for updates on new items that come out.