CUH Student Educates Younger Generation About Environment
Ever since she was a child, Katey Shedden wanted to be a science teacher but was not a fan of the traditional school structure. This job gives her the chance to teach kids about nature and how important the earth is while being outside in the environment simultaneously.
Shedden is a fourth-year student at Chaminade with a major in Environmental Studies. When she is not doing assignments for school, Shedden works for the Hawaii Nature Center which is located in Makiki Valley. She has been with there for about a year as an Environmental Educator.
Shedden, who grew up in Texas, got started on this career path during the summer break in 2017 when she had her first internship working in Wisconsin at a National Wildlife Refuge with The Student Conservation Association. She also was an intern at the Alaska Islands and Ocean Visitor Center, which was also with The Student Conservation Association, in Homer in the summer of 2018. This was Shedden's first experience teaching as well as working with kids outside. It was this internship that made her realize that this career was a real option and not just a dream.
"These short interactions with nature can lead to a whole lifetime of curiosity for some students," Shedden said.
In the Fall 2018 semester, she started volunteering for the Hawaii Nature Center as a teaching docent. While volunteering, she was also hired as a new educators. Some of Shedden's responsibilities for the job include leading field trips for groups of students from local elementary schools. These field trips strive to educate the students about Hawaiian ecosystems and the species that depend on them.
The typical work day for Shedden starts at 7 a.m. at the center where she prepares a vehicle with supplies for the field trip off-site. Once she packs up all the gear for the day's activity, they head out to the site and set up for the trip and around 9 a.m. the students arrive. The field trips focuses on various topics for different grade levels. This program specifically focuses on Hawaiian endangered species, life cycles, and wetland ecology.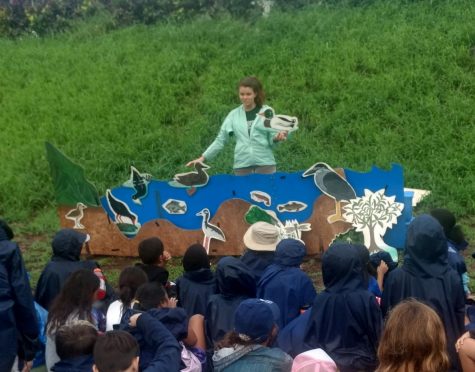 "I've discovered that the loudest students are sometimes the most curious and just want to gain as much knowledge as they can," Shedden said. "The key is finding a balance between keeping their curiosity alive, while allowing other students the opportunity to learn."
Shedden enjoys working with kids. She gets to spend her mornings outside, helping kids to learn more about the world. With having the opportunity to work with them, Shedden is able to enable them to discover the critical ecosystems that exist right in their backyards.
Every time she leads a group, she discovers something new. Working with them requires her to be in the moment and while in that time, she learns new ideas. Even when it gets repetitive, the kids inspire her to stay curious and to be excited about our world.
"I absolutely love my job. I always joke that I get paid to hike, which is a dream," Shedden said. "I feel so lucky to be part of an organization that works tirelessly to connect the children and families of Hawaii to the ecosystems we all depend on."
For more information about the Hawaii Nature Center and volunteer positions, go to the center's website.