CUH Student Talks Deviancy & Delinquency at Conference
Chaminade junior Nicole Sagapolutele was one of three CUH students who attended the National Council on Undergraduate Research (NCUR) at University of Central Oklahoma, which took place on April 4-7.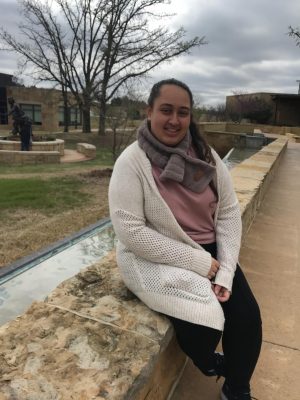 "NCUR taught me research can be done by anyone in any major," Sagapolutele said. "I think students should take the opportunity to do research in their field, especially something they are interested in. I think they should take advantage of attending conferences not only to present their work, but also to learn about other projects."
Since the summer of 2017, the English and Psychology major has been developing her research project under the mentorship of English professor Dr. Cheryl Edelson, through CUH's Undergraduate Research Program, funded by the Title III Grant. Sagapolutele gave an oral presentation on her research paper entitled "Defining Juvenile Deviancy and Delinquency in Veronica Roth's Divergent and Marie Lu's Legend" at NCUR.
"There was a brief discussion about the connection between these fictional characters and modern adolescents because teenagers are going on strike for gun control and teacher wages, which is a little odd for what is considered the 'social norm' of society but important for change," said Sagapolutele of the Q&A portion of her presentation.
"She was very confident and well-rehearsed," said Eva Washburn-Repollo, a CUH communications professor who accompanied the students to NCUR. "She stuck to her time for Q&A and explained her project thoroughly. People were very interested."
NCUR brings together undergraduate researchers from across the country to share their findings with each other. Sagapolutele appreciated the opportunity to learn about topics outside of her field of study from other conference attendees.
"I learned about a lot of different projects: how the word 'feminism' is defined and negatively mentioned in the media, how the testing of diabetic cells can determine future aspects of someone who might be diabetic or not, the fear of the unknown in film and how monsters are creations of humanity's fear of the unknown, but in a monster form – Godzilla, alien, etc. – and how many international students – mostly Chinese students – are sexually assaulted at a specific university," she said.
While the weekend was full of learning, the trip to Oklahoma wasn't all work and no play. Sagapolutele, Washburn-Repollo, and the two other CUH students in attendance – Jarresa Kiyoko Harris and Madison McNamara – enjoyed their downtime by attending the Metro Music Fest where Prince's band performed, visiting a local Native American cultural center, and eating at a local brewery in Oklahoma City.
Sagapolutele is from American Samoa and this trip was the first time she travelled to the mainland.
"Oklahoma is bigger and flatter but not as crowded as Hawaii," she said. "It was a different environment in terms of people and sights. I liked Oklahoma, and it's not so busy environment and roads, but it's not somewhere I think I would visit on my own. I really enjoyed their downtown. I thought their restaurants and cafes were quaint."
Sagapolutele said her experience presenting at NCUR inspired her to continue exploring different areas of research. She hopes to pursue a master's degree in teaching after she graduates next year and wants to study behavioral science, child development, and student testing in education.
"Nicole is a promising student, and it has been a pleasure working with her," said Edelson, Sagapolutele's faculty mentor