CUH's Taua Receives Full Ride to Grad School
Chaminade University's Nerisa Taua, an Environmental Studies senior, received a full-ride scholarship to pursue her master's degree at Purdue University this fall, and strives to become an advocate and expert on endangered species in her beloved home of American Samoa.
"The reason I wanted to go to grad school was, of course, to further my education and get more opportunities," Taua said. "But it was more to open a door to people from my home and people from my culture. So when they see me going to grad school, going to a school where it's predominantly a white institution and there aren't really Pacific Islanders, when they see me do that, then they can do better."
Taua's acceptance and offer came in the first week of February from Purdue's Department of Forestry and Natural Resources, where she will be studying Wildlife Science specifically. The American Samoa native developed ties with the university during the summer of 2017 when she interned with Dr. Patrick Zollner, associate professor of Wildlife Science, at Purdue's bat lab.
Prior to participating in the Summer Research Opportunity Program at Purdue in Indiana, Taua was unsure of the career path she wanted pursue. But her internship at the bat lab revealed her passion for endangered species. Her summer research involved finding more efficient and cost-effective bat-capturing techniques. Along with Dr. Zollner and his team of undergraduate and graduate student researchers, Taua utilized acoustic monitors and echolocation to determine the best location to capture Indiana and northern long-eared bats. Since the summer, Taua has been the primary author of a manuscript documenting her research. She hopes to publish her findings in May.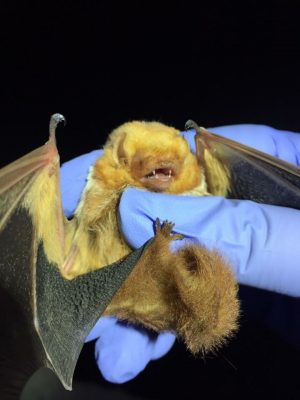 Coincidentally, American Samoa has its own fruit bat that Taua is now eager to protect. She has already made plans with her graduate program to attend classes on Purdue's West Lafayette campus in the fall and return home in the spring to study the fruit bats.
"We don't have many scientists back home; we need people to come down to help with wildlife conservation," Taua said. "We always have to ask people from the mainland to come down because we don't really have that many Samoans within the field. So my ultimate goal is to come up with new data and new information about a native Samoan species and make it available to the public, especially back home, and to be the person that they call when they need help with conservation management or endangered species."
Even though Purdue is a predominantly white institution with few Pacific Islanders, Taua felt right at home at the university's Native American Education Cultural Center, where she met other minority students – mostly Native Americans – who were instrumental in making her feel welcomed and accepted. Taua has been accepted as a Sloan scholar (most recipients are of Native American descent) and will receive a stipend to fund her educational expenses beyond the nearly $30,000 annual tuition.
Upon receiving rejections from other summer research programs last year, Nerisa was encouraged by Dr. Gail Grabowsky (her long-time professor at Chaminade) and Patricia Lee-Robinson (an associate provost and director of the Office of Health Professions Advising and Undergraduate Research) to apply to Purdue since CUH has a partnership with the school.
"She's a good student," said Grabowsky, director and associate professor of Environmental Studies. "[Nerisa] is just so responsible. You can depend on her, and she'll go the extra mile."
Grabowsky and Lee-Robinson are just a couple of the influential connections that Taua has made at CUH over the last four years.
"Being at Chaminade was definitely a blessing for me," Taua said. "A lot of people who helped me with this journey and getting into Purdue were at Chaminade itself. It's just a community full of helpful people who'll watch out for you. That common saying where in order to raise a child it takes a village, I feel like that's me. I would have never completed or started this journey if it wasn't for the Chaminade community."