Carlos Gutierrez Brings Experience to Forensics
In 2010 Chile was hit by a devastating 8.8 magnitude earthquake and tsunami that resulted in over 500 deaths. Carlos Gutierrez who moved to Hawaii in 2012, was the man responsible for over 100 identifications which is considered the largest identification process ever in South America. As of this year, Gutierrez has become Chaminade's newest forensic science lecturer in Henry Hall and plans on educating the future of forensics through his personal story telling and experiences.
Gutierrez's journey started in 1998 when he joined the National Police, graduating from Escuala de Caveniros. Shortly after graduation, Gutierrez started riding a Honda 250 motorcycle through Chile's capital responding to crimes like bank robberies and assaults. One year into his career Gutierrez was involved in his first shoot-out in which he shot the suspect down.
"I was lucky, you feel like it's a movie you hear and feel the bullets near you and the sounds everything is in slow motion," said Gutierrez recalling the 1999 incident.
Gutierrez continued his street level police work before going on to study criminalistics and started working in the forensic lab in charge of the CSI team in Patagonia, Chile.
While in Patagonia, Gutierrez loved his co-workers and worked a lot of cases involving archaeological remains. In one case, his team took a Chilean Navy ship down to a small village in which they found and analyzed grave remains of Kaweskars, the indigenous people of Chili and were able to give the remains back to relatives for a proper burial. Gutierrez remained in Patagonia for 4 years before heading back to San Tiago to become the deputy director for the largest forensic lab in Chile.
For the most part, Chile has a low murder rate of about 500 per year in which he would work on about 30 or 40 cases. Many of these cases were solved using DNA fingerprint and firearm analysis. According to Gutierrez, he would get answers from all of his cases, which would result in suspects declared guilty in court.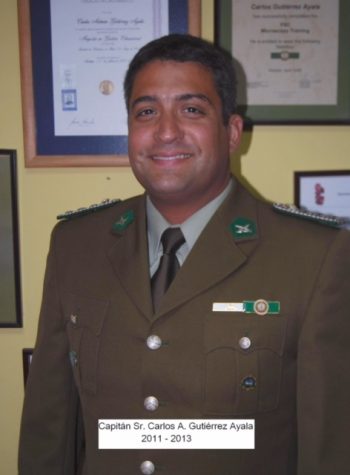 Later in 2010, he identified all the victims from the 2010 earthquake and tsunami, which was the largest identification ever for victims in South America. It involved 100 victims in one city in which Gutierrez and his team took responsibility for identifying.
A few years later in 2012, Gutierrez honeymooned in Hawaii with his wife, Ana Acuna. While in Hawaii, they fell in love with the islands and decided they would further pursue an education in the states. After doing research on schools, they found Chaminade and Gutierrez started an English course and most recently graduated Chaminade in Spring 2017 with a master's in science and forensics.
In addition to recently becoming a professor and honorary Hogan International Mentors, Gutierrez and his wife, along with the guidance of the Hogan Entrepreneurs and mentor Peter Rowan, have started their own company, True Forensic Science, which aims to teach people the latest and best advances in the forensic field to help solve crimes through out the world. Most recently in between lectures, the business has taken Gutierrez and his wife to Mexico, Honduras, India, and Bolivia. Gutierrez plans to continue growing as an educator and businessman here in Hawaii using his wide range of knowledge and experience to continue developing the future of forensics.
"I really appreciate Professor Gutierrez's insight on forensic sciences," said Caitlin Martinez, a senior criminal justice major who is planning on working in law enforcement once graduating this spring. "I feel like his real-world experience really helps him excel in his teaching. I really enjoy him as a professor."