Streetwear Bridges With Local Lifestyle
The Firm, a local streetwear shop, has been keeping it "Fresh In the Right Mind" since 2012. The foundation of this shop was built upon four close friends from Kalihi: Elmer E., Sherwin B., Gilbert A., and Jerome C., who have known each other since kindergarten and throughout Farrington High School. Alongside to running the business, the owners all hold full-time jobs.
"The brand connects well with their customers and their unique take on incorporating the designs into Hawaii's lifestyle is what separates them from other local streetwear brands," said Austin Schulte, a worker for The Firm who started off as a customer and has been representing the brand since it first started. "They progressed well over the years."
The shop carries vintage and contemporary snapback hats with designs from streetwear companies of California, including sports teams, along with its own designed products. The focus on the brand integrates a love for sports, music, art, and aspects of Hawaii.
The Firm team gains inspiration from "So-Cal style with a Hawaii local flavor," Schulte said.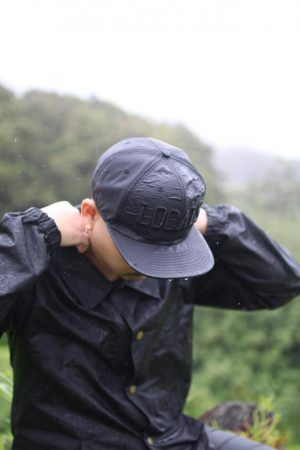 The Firm firmly roots its respects and blessings for the island lifestyle and culture with previous products releases containing recognizable Hawaiian flora and plant designs. Past designs include incorporations of Israel Kamakawiwoʻole (Bruddah Iz), a capsule theme dedicated to Hawaii's Statehood day, and silhouettes of Diamond Head.
"We features a clean style look and the team works hard to transform the local perceptions and aspects to authentically represent the culture," Schulte said.
From shirts to snapbacks and other miscellaneous items, The Firm takes its brand through many different angles to incorporate the everyday living of paradise in the eyes of the neighborhood local with a mixture of urban flavors from LA and other parts of California.
Alfredo Matias, a 17-year-old student from Kailua High School has been representing The Firm for more than 3 years.
"The brand not only represents those who are native to the land but to those who aren't as well," said Matias. "As an individual that embraces the local culture, wearing the brand allows an opportunity for me to express myself, especially as a minority in Hawaii."
"The brand has given me a sense of style in streetwear throughout my high school career in terms of self-expression, personality, and identity," said Matias.
The Firm has collaborated with numerous other local streetwear companies to name a few, from Kicks Hawaii, NMLSWORLD, and Noteworthy. The Firm offers a wide selection of capsule products that feature its classic logos to seasonal release items including themes featuring holiday packs and seasonal — fall, winter, spring, and summer-collections.
"The classics are the backbone of our identity. Less speaks more," said Schulte. "Our classic logo contains clean lines from a simple 'tf' and logo statements of 'LOCALS' and 'ALOHA WE STAND.'"
The company introduced a brand extension called "Just Hello", featuring a minimalistic look that offers products with a clean "Hello Honolulu" logo.
"The team created this brand extension to expand in a wider market that would work fluidly in future brand collaborations," said Schulte. "The word "Hello" and "Honolulu" are easily recognizable from the locals to our customers who are here visiting and vacationing the island."
The shop provides a welcoming ambiance. The warm lighting of the shop with spotlights from above with an extended wall with rows and columns of cubicles containing featured hats, with a center showcase of featured shirt and threads. The all natural, polished wood, surrounds the interior of the store and offers a clean modern look.
"When customers walk in, they tend to notice our shop decor of an antique Singer brand sewing machine, near the checkout and a glass of Kaws Hennessy Liquor," said Schulte. "It just goes to show our respect for the past, the hype, and future for clothing & streetwear style."
The Firm, located across from Walmart at 631 Keeaumoku St, is also adjacent to Walgreens near the Ala Moana shopping center and is open Monday through Saturday (11 a.m. to 7 p.m.) and Sunday (11 a.m. to 5 p.m.). To keep up with the latest product releases, follow The Firm on Instagram: @thefirmhnlhawaii.