CUH student business leader has a Tale to Tell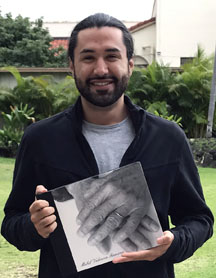 Sheehan Chase is a Chaminade senior in the Communications department and Hogan program who is set to graduate this coming spring. The 28-year-old former massage therapist has taken an interesting route to get to this point. This includes massage therapy work, driving for Uber, and competing in a marathon on the Great Wall of China. Due to his experiences, Chase has many stories and tales to tell.
However, he has come to realize that his passion is to use his communication skills to share stories of other peoples lives and experiences.
Fortunate to have all four of his grandparents living in their 90s, Chase realized that there was little time left to capture stories and memories of his relatives that he could one day share with his own kids. Because of this, in 2013, Chase started documenting his grandmother's life. He helped her gather photos, mementos, and stories that he later turned into a book that also included audio files of his grandma explaining moments of her life.
"These people like my grandmother have so much valuable information to share with us," said Chase, who will graduate in May. "Their life experiences can teach us so many valuable lessons that we can use in our own lives."
The project received such good feedback from Chase's friends and family that he decided to turn his passion for story telling into a business.
His business is Tale to Tell, which specializes in the preservation of life memories. In the future he hopes that his product will be accepted as a form of reminiscence therapy, helping elders with Alzheimer's.
In the meantime, he has met with his Hogan advisors and mentors who pushed him to create a revamped prototype of his business. He took that advice and launched Tale to Tell in December. He didn't stop there; in January, Chase presented his storytelling business to the panel at the Global Student Entrepreneurial Awards in Honolulu. He finished in the top three for the region competing against other student entrepreneurs. Since the competition Chase has been working with more clients producing the Tale to Tell book.
"Sheehan's a great student, and his idea is a really interesting one," said Communications professor Tom Galli. "I'm excited to see what he does with it."
Chase, who is originally from California, also credits his travels and time in Hawaii to his developments as a student and entrepreneur.
"The isolation of the islands helped me to focus on my education, away from the usual distractions and comforts of home," he said. "Although I put off going back to school for some time, my travels and life experiences have made me who I am today and ultimately changed my views on formal education, which led me here to paradise."
Next up for Chase is graduation on May 15 at the Blaisdell Arena. After that Chase plans on continuing to grow his business as well as coming back to CUH for his master's degree.
"Hawaii has been a dream for me so far, and I think that a part of me pursuing my master's degree is me not wanting to wake up from that dream," he said. "… Not yet anyways."