Hunter Bruno, the nurse and entertainer
Upon entering Chaminade University in 2014, Hunter Bruno was initially anti-social, silent and overall withdrawn from the outside world.
He has now turned into one of the most well-known people on the Chaminade campus. The 20 year old is one of seven males in the Chaminade nursing program who is in his junior year and only one of the 61 students in the Nursing Department. Though initially unsure about declaring a major, he began to find himself more often in the hospital.
"When my father's health started to deteriorate, I spent a lot of time in hospitals and through talking with a lot of nurses it made me realize that was something that I wanted to do," said Bruno.
Homework and studying takes up 40 to 60 hours a week, and yet Bruno remains optimistic and determined to become a nurse.
"It's the most work I've ever had to do in my life," said Bruno. "[Yet] it's the most rewarding thing I've ever gotten to do where I'm working in hospitals, I'm working in post surgery and recovery floors, I've got to work in labour and delivery rooms, I've got to work in older adult care, I start pediatrics next month. It's just a crazy good experience."
When deciding what university to attend, Bruno found Chaminade to be the best pick as Chaminade had the most appealing nursing program. Bruno, who has lived on Oahu for the last decade, felt inclined to stay in Hawaii. But his island fever is increasing, and Bruno plans on leaving Oahu for California after graduation and hopes to work himself up to become a charge nurse or in a nurse manager's position in a hospital.
"You're not just a nurse working with three or four patients all day but you get to be part of helping all of the nurses with their patients and just get to be this bigger part of something," Bruno said. 
Aside from his career goals he is a passionate car lover and has a deep desire to travel to international electronic music festivals. Recently, with the increased interest in electronic music, Bruno has also developed a fervor for gloving: a light performance done by installing miniature lights into the end of gloves and using finger exercises to create a hypnotizing performance. According to Bruno, gloving has had positive effects on him as it acted as an ice-breaking tool for conversations and making new connections.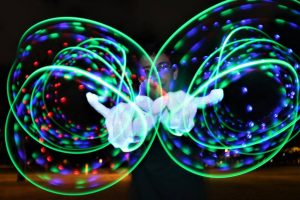 Currently Bruno and many other glovers are fighting against a negative stigma towards gloving, as many music festival events and the general public perceives the art of gloving to be in connection to drug use. Gloving is banned throughout many music festivals and was initially banned due to a death occurring at a music festival in California, Electric Daisy Carnival. The death was caused by a drug overdose with no evidence in connection with gloving, still the company wished to refrain from being associated with drugs so they banned gloving all together.
He has observed positive effects of gloving, as it has helped several people he knows deal with depression and social anxiety.
"There's an active movement in California right now, where nurses and physical therapists are using it [gloving techniques], in a measure for physical therapy for children recovering from degenerative diseases," said Bruno. "They're giving out gloves to kids and getting them to do finger exercise and it's helping them regain their ability to use their hands."
Bruno and the gloving community are taking measures to legitimize it as a sport or an art form, creating competitions and giving names to certain moves and styles. From that ban, a movement began called "Gloving is Not a Crime."
His interest in gloving has brought him out of his anti-social shell and given him a creative outlet in his time and energy consuming nursing program.