Exploring Oahu: Kuliouou Ridge Trail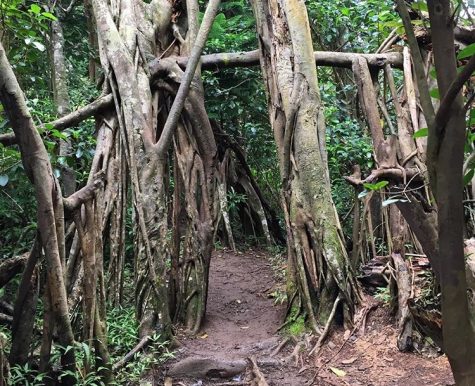 Living in Hawaii, we are surrounded by a great deal of natural wonders and breath-taking scenery that we often take for granted due to our busy lives and schedules. I enjoy hiking as a means of escape from every day life as it allows me to get away for everything for a few hours and to immerse myself in nature.
I was able to take advantage of my Veterans Day this year and I went hiking at the Kuliouou Ridge Trail with a few of my friends. I've done this hike a few times, and I've had positive experiences each time I have done this hike. I would have to say that the Kuiliouou Ridge Trail is one of my absolute favorite hiking trails on this island, as it isn't too hard but provides an amazing view of Waimanalo.
This trail is located in the Hawaii Kai area, and it begins at the very end of Kalaau Road. This hike is moderately challenging (I'd say maybe a 6/10 in terms of difficulty), and took us about four hours to fully complete. The hike begins extremely easy, and increases in difficulty the further you go.
We got to the hike at about 6:30, as we expected it to be pretty crowded due to the holiday. This was a smart move as there is limited residential parking, so if you're going on a weekend I would advise you to go a little earlier to get a parking spot and avoid the crowds. If you are going to attempt this hike make sure to bring clothes and shoes that you don't mind getting dirty, as the trail is pretty muddy and slippery. I still have yet to fall on this trail, but I've witnessed a few people take a spill into the mud. I've also seen a few people trip on the tree roots protruding out of the ground, so just be prepared to watch your step. If you have hiking boots you should use them. I would also recommend you to bring lots of water, food, and a charged cellphone. The last thing that you want to happen is to suffer from dehydration, hunger, or be lost without a way of contacting help. Even though this hike isn't terribly challenging or long, it's always better to be safe than sorry.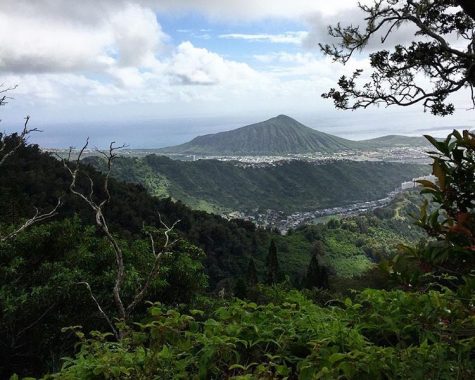 The thing that I love most about this trail is the variety of scenery that you are exposed to throughout the trail. You are able to see to many interesting plants and trees. I am particularly interested in local flora and fauna, so this hike is always a blast for me. I like to imagine that certain parts of this trail are almost identical to scenes of ancient Hawaii and that some of the trails are similar to those of the ancient Native Hawaiians. You also are able to experience a variety of different terrains and surroundings and it almost feels like you are doing multiple hikes in one. The thick foliage and trees also provide ample shade so you aren't going to be overly exposed to the sun.
Throughout the hike, there are different markings on the trail to help ensure that hikers are safe and following the right trail. Make sure to follow these markings, as they will help you to avoid getting lost and ending up on a different trail.
About a quarter of the way up you are given a nice, picturesque view of the valley. I would advise you to go on a nice day when it isn't too cloudy or rainy. I enjoyed the view at this point and if you're into photography it's a great place to hang out, take a break, and snap a few pictures of the valley. There is a lot of interesting plant life on this trail, and I feel like I have never seen so many shades of green in one place. As you proceed up the trail there is a shaded area with a few tables where you can hang out, recharge, and catch your breath.
Keep following the trail and you will reach the stairs, be ready to put your legs into overdrive.  This is where it gets a little steeper, and it's pretty much leg day. However, once you get to the top, it's all worth it. The view is amazing, and it's a great place to take pictures, hang out, and enjoy the cool breeze.
I would highly recommend the Kuliouou Ridge Trail to anyone wanting to get a taste of Oahu and the variety of beautiful scenery it has to offer. I feel that this hike would be an amazing experience for both locals and tourists alike. I feel that it's also pretty hiker-friendly and is suitable for both the young and old. It's a great way to spend a few hours of your day and get out into nature.