A foreign experience at Chaminade
Chaminade is known for its mixed ethnic population and cultural blend. Every year young aspiring students from across the world pack up their bags and leave their homes behind. Some of those aspiring students have chosen Chaminade as a path to reach their goals and dreams.
Three young students Jack Liddle of England, Bernd Buescherhoff of Germany and Stine Lindvig of Norway were willing to travel more than 6,000 miles away from their homes to hone their academic skills at Chaminade.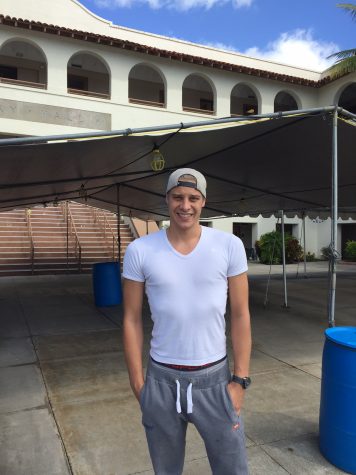 Bernd Buescherhoff has been at Chaminade for 3 years and is a junior. He comes from a small town in Germany called Steinfeld, which has a population of approximately 10,000 people. Buescherhoff grew up in a family were sports were a big part of his life and soccer is what he most enjoyed doing. When he was offered an opportunity to come to Chaminade where he could play the game that he loved while pursuing a degree in Biochemistry he could not say no. For the last three years, including this season Buescherhoff, has been the goalkeeper of Chaminade Silverswords men's soccer team.
"Before coming to Chaminade I had to make the decision whether I wanted to pursue a professional career in soccer or focus on my studies, but coming to the United States allowed me to do both,"said Buescherhoff. "I enjoy my time here, being able to play soccer you know, and meeting great people while pursuing my bachelor's degree."   
For Buescherhoff, the warm tropical weather Hawaii has to offer made the decision even easier.
"In Germany we have all four seasons and sometimes our summers can be short and chilly," he said. 'During winter and fall it gets very cold and coming to Hawaii is definitely a nice change and of course going to a tropical place like this is more tempting than going somewhere freezing."
After Buescherhoff graduates, he plans to return to Germany as he feels that he has been away long enough from his friends and family. In Germany he wants to study medicine. 
"I have always had a passion for medicine and how the human body works, because my mom is a physical therapist and she is a big influence," he said. "I want to learn more so I plan on continuing my studies back in Germany."
Buescherhoff found the transition to an American school better than he thought it would be. Coming from another country and having to study in your second language can pose many difficulties for some and is not always an easy task. Chaminade is a big reason why the transition to an English speaking school went well.
"When I came here I did not know what to expect, but Chaminade is not a very big school and the people and environment are very peaceful and welcoming," he said. "I think that helped a lot with my transition."
Jack Liddle, unlike the other two, is in his first year here in Hawaii and is a sophomore at Chaminade. Before coming to Hawaii, he lived in Japan with his girlfriend. His girlfriend at the time was going to Hawaii and was a reason why Liddle started looking at schools in Hawaii. Liddle looked into different schools in Pennsylvania and Hawaii. Ultimately Chaminade became the best choice for Liddle, as he felt Chaminade had the better Criminal Justice program and more opportunities for him in the future.
"I came here from Japan and my girlfriend at the time was coming here," he said. "I just looked at the schools and the cost were the same. Plus the CJ program here at Chaminade was a lot better. There are a lot more opportunities and programs that will help me after I graduate. So I decided to come here."
Liddle, in contrast to his fellow European students, is planning on staying in Hawaii after graduation and continue to chase his dream of becoming a police officer for the Honolulu Police Department. Ultimately in the end Liddle wants to work up the ranks in the justice system and become an Federal Bureau of Investigation (FBI) agent.
Stine Lindvig is from Kristiansand located in the south in Norway and with a population of 87,000. She grew up living with her mother, father and her younger sister. This is her second year at Chaminade and she is a senior. The two years have been a positive influence and experience for Stine. 
Lindvig, unlike Buescherhoff, had some previous experience with the American school system. Before coming to Hawaii, Lindvig was a Psychology major at Pacific Lutheran University of Washington. When she was offered the opportunity to continue her Psychology studies in Hawaii, she jumped at the chance. 
"I applied to PLU Washington through a Norwegian student program called Sonor, and when I saw they had a partnership with Chaminade, I had to go for it," she said. "Just because I always wanted to visit Hawaii and live in a place completely different from cold Norway."
Lindvig also plans on going home after graduating. She wants to take a year off to pay off some student loans and work and rest before her educational journey continues. After the one-year break, Lindvig is adamant about becoming a doctor and will continue her doctoral degree in Hungary.
She thinks her experience at Chaminade have been great and is very pleased with her two years as a student.   
"My two years in Hawaii and Chaminade have been wonderful, even if sometimes I miss home," she said. "I try not to think about home to much, but overall the people and culture have made this into a positive experience."