'Fantastic Beasts' a fantastic start to magical series
"Fantastic Beasts and Where to Find Them" brings back the magic from the Harry Potter universe that we have all been missing for some time. As soon as the movie begins, the familiar tone of "Hedwig's Theme" brought me back into the world of Harry Potter. It brought back all the nostalgia that was in the original Harry Potter movies. It was a fantastic start to a new series as the entire movie was completely intriguing. It was a magical journey that unfolded a new era of wizards.
"Fantastic Beasts" takes us to a whole new place from the original story of Harry Potter. It literally takes place in a different country where magic is on high alert from humans, also known as muggles, in New York City.
There are a few differences that come from the Harry Potter films and "Fantastic Beasts." Since "Fantastic Beasts" takes place in New York City, United States the term for muggles change. In America the muggles are referred to as No-Maj or non-magical users. In the movie, there is a strict policy against talking to muggles; in Harry Potter, wizards used muggles and lived with them.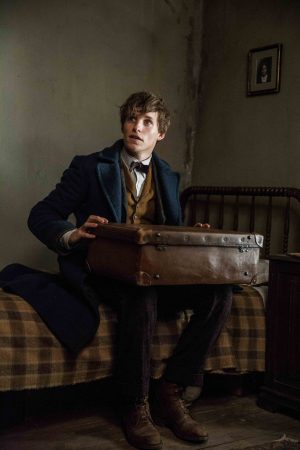 An Englishman by the name of Newt Scamander (played by Oscar winner Eddie Redmayne) has recently arrived in New York City with his collection of creatures from around the world. Prior to his arrival in America there has been cases of magical things happening around New York City. A beast has terrorized the city, buildings have been destroyed and No-Maj have seen magic happen. The society in America known as The Magical Congress of the United States of America want to stop it as the muggles are persecuting them for what has happened. Their world will be discovered, and it could mean the end of the wizard world as they know it.
Even with the intense plot of the movie, it does have moments of happiness and humor. The creatures that were stowed away in Mr. Scamander's suitcase were absolutely beautiful. Their designs and the CGI brought me into a completely different world. Almost all the creatures were cute and adorable, although there was one that was a bit scary to me, harkening back to one of the most terrifying creatures in Harry Potter.
Each beast had a unique ability that they used to move the plot forward and either help or disrupt Mr. Scamander. The beauty of the movie came from those designs and how the main protagonists handled each with care as they were actual creatures. It made me happy to see how much dedication went into creating such creatures. All of them were so lovely and just made the movie so much better to have cute beasts in a dark universe. 
I absolutely loved this movie from start to finish as it brought back the memories of all Harry Potter movies. The creatures were so beautifully designed I wanted to pick them off the screen and have one in my pocket. The comic relief was welcomed as even when the plot got intense there was these little creatures to make it better. Even one of the protagonists had jokes.
It was more of a joyful ride than the originals but more adventurous and fun. "Fantastic Beasts" was a book that Harry used in the original movies, but I am a bit confused on where it lands in the universe of Harry Potter. Though there were references to some characters from the original Harry Potter movies, this is a bit confusing as to how it fully connects. 
It feels refreshing to get out of Hogwarts and into a completely new world of wizards and witches.