Shark diving thrills but is surprisingly relaxing
Three miles of the coast of Haleiwa on the North Shore of Oahu, we entered into waters measuring 250 feet in depth to swim with sharks in their natural habitat.
I have always had a fascination for sharks, and since moving here in August 2015 I have really wanted to go on an ocean dive tour to go swimming with them. When my sister decided to visit me this October, it was finally time as she wanted to experience the same. We booked our tour with Island View Hawaii, which is a family owned and operated dive tour company from Haleiwa.
After boarding a small boat on Haleiwa harbor, we received a short "security lecture" from one of the experienced divers who has been doing this for a long time and knew how to "communicate" with sharks. The best advice he gave us was to leave everything we had previously heard about sharks on land and keep an open mind toward the experience.
After about 10-15 minutes of moving away from the coast, we arrived at the destination where we saw several sharks circling us. As we stopped we were told to gear up with fins and snorkels, and then we entered the water one by one.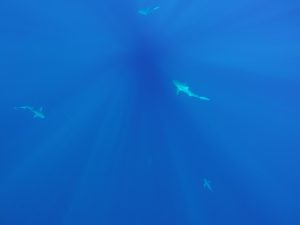 Being the first person to enter the water after the safety diver, it felt a bit nerve wracking sliding off the edge of the boat and into the water. Swimming toward the security diver who was located about 10-15 feet away from the boat, I put my head underwater to check out my surroundings. Swimming around under me was probably 10 to 15 sharks. Surprisingly the sharks seemed really calm, and it was kind of peaceful under the water. It was a more exciting and fun experience than a scary one.
During the 20 minutes we got in the water we saw mostly galapagos and sandbar sharks, but there was also one hammerhead shark that quickly drifted past us.
During our time in the water we had to stay mostly together and behind our safety diver. However, as we were only six people it did not feel too crowded, and we were able to kind of drift off on our own.
Watching and interacting with sharks was a thrilling but also a relaxing experience. It is fascinating how you can gain so much understanding about the ocean and its inhabitants after just one tour. A tour like this shows us that many of the fears we have about sharks and other inhabitants of the ocean often are irrational. It might be different to meet a great white shark on your own while swimming or surfing, but it shows that not all sharks are aggressive creatures wanting to harm you. If you seek their company on their terms, they are quite peaceful and curious. The most exciting moments were when the sharks came closer to us. Several times I could have reached out my arm to touch them if I wanted to, but of course I did not.
Free diving with sharks without a cage between us and them was an out-of-body experience, and I highly encourage others to do the same. You not only get a thrilling experience, but also a chance to learn more about these fascinating creatures and their home.