An Inside Look at Chaminade's Provost, Helen J.D. Whippy Ph.D.
Dr. Helen Whippy is the "number 2" person on campus behind Brother Bernard Ploeger. She is in charge of faculty and staff of Chaminade, but she approaches her role at Chaminade in a progressive way.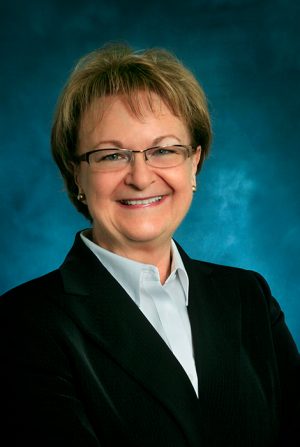 "I like to think it's like the mayor of a small city," Whippy said. "I keep things working. I try to support the faculty and the students and what they're doing and I try to look forward five or ten years, how do we want Chaminade to be."
Whippy has been the provost at Chaminade since 2013. Before then, she was retired after having spent two decades at the University of Guam.
But she came out of retirement to help lead Chaminade. If the core of everything on this campus is the student experience and student learning, then there are two parts to that: one is the way you do that is student development and faculty. Student development involves advising, extracurricular activities, and what happens in the dorms, and campus ministry. And the other stream is the faculty, how they change their pedagogy, how they teach their classes, what they expect of the students, how they interact with the students, how they do research with the students.
"I'm an academic appeal person," she said. "So if you feel you've been unfairly judged, that's where it goes. It goes to the faculty member, then the dean, then to me."
Dr. Whippy is the peacekeeper and translator for all internal staff, faculty, and students within the Chaminade umbrella. She likes to be considered as the storyteller for all people involved, from the president to the faculty to the students.
"My job is to do the internal workings, to keep things going," Whippy said. "So I'm the quality control is what I like to tell people. I watch all the processes, make sure we're not being arbitrary or capricious. Try to help the faculty in their careers, try to help the students in their careers. It's very interesting because you can only do this if you've had a lot of experience cause you have to know a lot of things about a lot of disciplines."
The reason for a higher cost tuition is partly because Chaminade is a private institution not tied to the state government. This seperates Chaminade vastly from a public institution like UH Manoa.
"We need to make sure we give our students a quality education and that the experience that they have here is worth what they are paying for," Whippy said. "In a public institution, there's something that's lost in the largeness of it. You know, maybe if they made little colleges that we're sort've semi-autonomous, that would be more of a community building exercise. We have a community here."
Whippy is the oldest of seven children to parents who did not even graduate from high school. Her siblings finished college as well. She completed her undergraduate degree at the University of Pennsylvania and her master's degree in Arizona.
In the 70's, Whippy joined the Peace Corps and was sent to Fiji at the University of South Pacific teaching mathematics. And then we went Papua New Guinea teaching at the University of Technology, the engineering school in Papua New Guinea. After ten years there, her sons started talking like Australians, so she said, "Hold on, you're Americans boys." So they moved Guam to the University of Guam. She likes to tell people, "I've been to Melanesia, Micronesia, now I'm in Polynesia. Next is amnesia. But before I get to amnesia, I said, 'I want to learn something different.'"
After retiring in Guam, she considered working at a place like the Red Cross, but Whippy decided to continue her educational career with Chaminade.
"I'm learning how a private institution works," she said. "It's a lot of fun. I wouldn't do it if it weren't fun."
The core values of Chaminade are derived from the character goals that are set for each student attending the Honolulu campus.
"We're not just the brains, or the heart, or the hands, or the feet. We're all of them," Whippy said. "Your feet have to take you to where you're supposed to be, your hands have to know how to do the work, your heart has to be in the right place, and your head has to have the knowledge. And when you put 'em together and throw in the attitude, character and ethics, then you've got a Chaminade graduate."
You can contact the office of the Provost by emailing: