Bakery & Table Opens its first Restaurant in Hawaii
At the corner of Piikoi and South King street, Bakery & Table opened its doors in the former Sub-Zero and Wolf Showroom on March 4.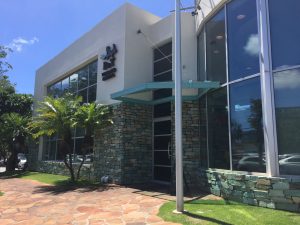 Bakery & Table is a two-story Japanese-American bakery and bistro. The bakery is located downstairs and serves Japanese-inspired freshly baked treats, coffees and teas. The second floor is the bistro that includes a full bar with an outdoor terrace dining area.
Bakery & Table is the first of the chain to come to America from Japan. The first restaurant opened in 1973 in the Akakura Kanko Hotel, which is located in Myoko, Japan, about a 3-hour train ride from Tokyo. From there, it has established three other Japan restaurants in Toufuya, Hakone, and Saitama.
The outside of the Honolulu building has a modern-industrial vibe with floor-to-ceiling windows, feature walls that are white brick, and stone fountain wall. Bakery & Table stands out from all the other buildings on Piikoi Street. When you walk into Bakery & Table, the right side is the cafe where pastries and coffees are paid for. The entrance of the bistro is a flight of stairs beneath the opening of the second floor. There is no elevator, so it is not handicap accessible, but when the second floor is busy during lunch the downstairs bakery tables are used as seating for the bistro. The outdoor terrace is only open during dinner time, from 5:30 p.m. to 8:30 p.m.
The host was very welcoming and is open to answer any questions. The servers are tremendously helpful in recommending entrees that are popular and making sure that your experience is best as possible. During lunch the restaurant serves soup, salad, pizza, and pasta ranging in price from $9 (soups) to $28 (B&T Seafood Cream). On Saturdays and Sundays there is a $13 brunch menu. During dinner the price range is $9 for soups to $36 for its Pan Seared Angus Rib Eye. Mixed in with every dish is a Japanese-style flavor. On Oct. 14, Bakery & Table just started having Happy Hour from 4:30 p.m. to 6:30 p.m. Most of its food is $5, and it has beer for $2 and mixed drinks for $5. The food is flavorful with dishes that very light and fill you up, leaving you with a great experience.
Make a reservation because dinner time is busy; if you walk in and try to get a table you will have to wait. The best way to make reservations is through OpenTable. Using OpenTable helps you get ahead of the call in reservations and is easier for the host to get your table faster. 
There are two options for parking, you can choose to self park on the South King Street side of the building or valet for $3 in the Piikoi parking.
If you're planning to take your significant other out on date night, request the tables that are closest to the upstairs fountain wall. At night the fountain adds to the mood with the warm glow of fire coming out of the water. Those tables are always the first to get reserved so make sure to request them.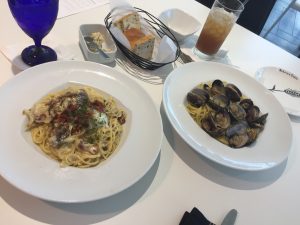 Even though the restaurant is in the middle of town with all of the noise, when you go inside to eat or outside on the terrace the atmosphere changes and feels secluded and quiet. If you are looking for a great place to take your date out for dinner or to just have lunch with a friend, Bakery & Table will be a great trendy place with a Japanese bakery vibe to try out and enjoy.
Bakery & Table
938 Piikoi St.
Honolulu, HI 96814
Hours
Lunch  11:30 a.m. – 2:00 pm
Dinner 5:30 pm – 8:30 pm
Happy Hour 4:30 pm – 6:30 pm