A Cheaper Alternative For Curry
On the corner of Date Street and Kapahulu Avenue, you might see two men outside playing music and advertising a new restaurant. Hawaii Curry, a Japanese curry house. As soon as you enter the establishment you are greeted by those two men outside. One goes to the back kitchen and the other goes to the cashier ready to take your order. They greet you with smile and ask you for your order. That is when you realize there is more than just one type of curry. The advertisements for the food are overwhelming. There is so much curry that one person cannot simply make any one decision.
The curry ranges from chicken katsu curry, udon noodles with curry, keema curry and kakikori curry. Keema curry is made with grounded pork and chicken, while kakikori is made with chicken broth.  The two men who took your order also comes to serve the food. Once they come to your table the presentation is beautiful, a dish that looks straight out of a five-star restaurant. Most of these dishes are served with a scoop of rice, a side salad and your main curry choice along with a choice of meat.
I ordered chicken katsu curry first then udon curry. The katsu was delicious and had a nice crunch to it. With the curry you do get a few bits of beef and carrots that were tender. The rice comes with furikake, a rice seasoning consisting of seaweed, sesame seeds, and salt. The small salad has cucumbers and a side of onions for flavor. The curry udon was also delicious; it comes with a big portion of green onions and some beef and carrots inside the broth.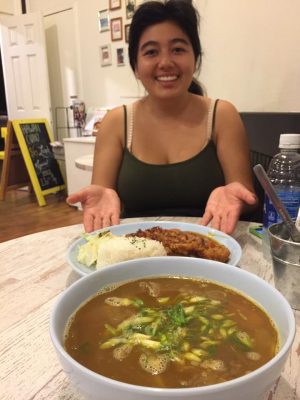 There are unique dishes such as, a tomato cream curry, Kapahulu fried rice combo and for those vegetarians there is also a veggie-style curry. Compared to the Curry House, I believe Hawaii Curry gives more food for a lower price. Pre-made dishes are relatively cheap, going from $5 to $13 for a healthy portion of food. The most popular dish is Mama's special,  which is just a big pool of curry and two scoops of rice.  
If picking a pre-made dish is not your style, there is an a la carte option. You start with making a choice of your starch option. This includes white or brown rice, french bread, rice noodles and finally udon. Then continue with picking the curry. There are four options that are Japanese curry, soup curry, keema curry, kakikori curry. Finally, the toppings range from meats, seafood, veggies. There are other options that are fruits, cheeses, fried onions and pickled veggies. This is the style you want to pick if you feel creative.
What makes Hawaii Curry different from the Curry House is that it is a BYOB restaurant. The "bring your own beer" option can be a major selling point for those who want curry and beer in a relaxed environment. Even with BYOB, Hawaii Curry does have drinks of their own, like a Japanese soda known as Ramune. For me one of the best things about Hawaii Curry is that they accept credit and debit cards, where as Curry House only accepts cash. This can be very helpful for those who do not carry cash around on a daily basis.
Overall, Hawaii Curry is an affordable place to enjoy some curry. With multiple types of curry to choose from, Hawaii Curry will leave you wanting more each time. It is a relaxing place for people to hang out and drink a bit while enjoying their delicious curry. This might ultimately replace the Curry House for those looking for something affordable to fill their stomachs with.