Documenting Lives One Snap at a Time
Hawaii-based photographer Jen May Pastores first began her interest in photography in the fifth grade. She was given an assignment to document something that was important to her, something that she wanted to see change.  
"My interest in photography began with my fascination with disposable cameras in elementary school," she said recently.
Now, at 33, she shares her experiences throughout the world as a professional photographer.
"I continue to use photography today as a way to tell a story, especially ones that celebrate the good in people," said Pastores. 
Pastores was born in Guam to a military family, but she traveled around every year until she moved to Honolulu for her four high school years. After graduating from Moanalua High School, she attended University of Hawaiʻi at Mānoa to pursue a career in journalism, but then moved to Los Angeles to earn her bachelor's degree in Journalism from California State University – Northridge. 
While Pastores was in California, she taught photography to students, from freshmen to seniors in high school. This was part of an after-school program at Golden West High School, where she was a teacher and showed students new ways to look at the world.
"I had the freedom to create a culture of learning that provoked students to see through different lenses," she said.
After a few years of teaching, Pastores took her career on the road and traveled to multiple countries.
In her travels, she collaborated with many organizations and projects, such as the Tiny Toones Youth Center in Phnom Penh, Cambodia. During this particular trip, she taught digital photography to the students in this youth center. The program lasted a month, with 50 students attending. The students learned the basics of photography and were able to apply their skills to express their world views and beliefs. 
The students' photographs turned into an exhibit known as "The World Through Our Eyes", which has been displayed in Cambodia, Philadelphia, Hawaii and California. The photos featured in the exhibit were sold for the Tiny Toones Youth Center, which raised $2,000 from the sales.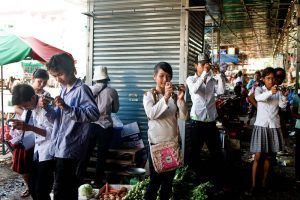 Along with traveling to Cambodia, Pastores went to New Orleans to take photos of the French Quarter Festival in 2009. With that, she received the Momenta Scholarship from Project New Orleans; this scholarship allowed her to continue her documentary photography endeavors. 
After returning in California for a few years to pursue her professional career, she took a leap of faith and decided to move back in Hawaii in 2015.

She gives all the credit to her parents, who have exposed her and her siblings to the world when she was younger. Now she can provide the same experience for the youth of the world by offering her knowledge to those who wish to seek it. 
As of 2016, Pastores offers her photography skills to students in the form of private lessons and workshops in town. She is also a mentor to local high school students through a non-profit organization known as Center for Tomorrow's Leaders, which encourages students to hone their leadership and professional skills. She also hosts exhibits in Chinatown during First Fridays and collaborates with other local artists to bring creative people together. 
Even though she knows that change that still needs to be done in the world, Pastores still continues her passion for photography.

"We got enough of a reflection in everyday scenarios that humanity is not always at its best, but I believe I can show there's hope in there, too," she said.