Kumu Keahi's winding road teaches 'life through culture' at CUH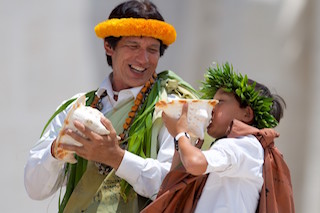 Mechanical engineering, medical school and the Hawaii legislature seem like three separate career paths for three different people. However, they are all but diverse facets in the life of Chaminade's professor of Hawaiian language and religion, Kumu Ralph "Keahi" Renaud.
Hearing him speak fluent Hawaiian in class and listening to him share his lessons and knowledge of the Hawaiian culture, one would think that he had been doing it his whole life. Rather, it is yet another aspect in his fascinating life.
"The passion that Kumu Keahi exhibits while teaching is infectious and as students, we absorb his knowledge and teachings effortlessly," Chaminade senior Kawehi Moefu said. Moefu is majoring in English, but has taken two of Kumu Keahi's Hawaiian language classes in addition to his Hawaiian religion class.
Keahi's captivating story begins across the Pacific Ocean.
The Early Years
Keahi's father, originally from Massachusetts, was in the United States Coast Guard and Keahi's mother was from Kula, Maui. He was born in Japan in 1963 and, as most military families do, they moved around a lot. Alongside his two older brothers, the Renaud family moved around from Port Angeles, Wash.; to Long Beach, Calif.; to Hawaii; and finally to the Bay Area where his father retired. While living in Hawaii, his father was stationed at Sand Island.
"I'm the luckiest guy for having the greatest parents," he said. "I was so lucky to have parents that completely supported whatever it is I wanted to do."
After graduating from high school in 1982 in Fairfield, Calif., he attended Salano Community College. There, he earned his Associate of Science in physical science as well as an Associate of Arts in mathematics.
Semper Fi
In 1983, out of the blue, a friend asked him if he would like to join the Marine Corps with him. As the long-haired, 19 year-old Keahi pondered his decision, he asked himself two questions: "In 10 years, if I don't join the Marine Corps, would I wished I had?" and "Could I cut my hair?"
Ultimately, he figured he would regret it and he could do without his long hair, so off to serve his country he went. He served in the reserves for four years in the infantry.
The biggest lesson he learned from being in the Marines was how to be a leader.
"If you can lead men to their death, you can lead them anywhere," he said.
Mechanical Engineering
Upon his return from service, Keahi enrolled at California Polytechnic State University in San Luis Obispo where he majored in mechanical engineering.
"It's a boy thing … I want[ed] to understand why things work," he said.
Keahi's goal was to affect change in the world. Although he enjoyed tinkering and designing military tanks, the way he was going to reach his goal was through his interest in alternative energy.
In 1990, he graduated from Cal Poly with his Bachelor of Science in mechanical engineering.
The Hawaii Legislature
As a college graduate, Keahi's pursuit of affecting change in the world through alternative energy brought him back to Hawaii. When his family moved away from Hawaii to the Bay Area, he always told himself he wanted to return to the islands. The only way he would return to Hawaii though was if he had a skill and a job.
With his involvement in alternative energy and a job with Kamehameha Schools-Kapalama as a summer school teacher in the Summer Technology Institute Program, he returned to Hawaii, but it led him in another direction.
Since the state was unable to provide the resources for alternate energy, he went to the Hawaii legislature where he hoped to make a difference politically instead of scientifically.
In the Hawaii legislature, he got a job as a committee clerk with Representative Dennis Arakaki, the chair of Hawaiian Affairs and Housing Committee at the time. It was here where Keahi's Hawaiian roots started to emerge in his life.
Working on this specific committee, he became "exceedingly familiar" with the issues and correlations between Hawaiians and housing, Hawaiian issues and housing issues. Although he wanted to understand the Hawaiian culture aspects even further.
Planting his Hawaiian Roots
With the many different paths Keahi was traveling on in his professional career, he decided to join a halau hula.
From this halau, Keahi met one of the most influential people in his life, Kumu John Keola Lake, and it changed his life and set him on a new path.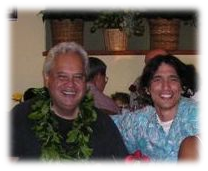 Before meeting Kumu Lake, who was a kumu hula (kumu means teacher in Hawaiian) and a professor of Hawaiian studies at Chaminade University, Keahi was focused on engineering and was busy working in the legislature. His involvement in his Hawaiian culture was minimal.
As he spent more time in hula and with Kumu Lake, a new "side grew that I didn't even know was there," he said. Kumu Lake helped him express the Hawaiian that was always inside of him. Keahi was amazed with his mentor's "immensity of knowledge in traditional Hawaiian culture and protocols," and it sparked his own passion of his Hawaiian culture.
Graduate and Medical School
Along with working at the Hawaii legislature and dancing hula, he was accepted to the University of Hawaii's secondary education graduate program. It was the first graduate program designed to create Hawaiian immersion school teachers. This was a two-year program with an additional year included to earn a teaching certificate. Most impressively, he was taking 28-credit semesters (full time was nine credits) all the while working at the legislature and staying involved in hula.
After he graduated from UH in 2000, he went straight into Imi Hoola, a yearlong pre-med school program. Successfully completing that program, he was accepted into the John A. Burns School of Medicine at the University of Hawaii.
Although he enjoyed medical school, it was the most challenging work he had ever done. Admittedly, he goofed off a little too much, and his studies took a backseat. He had finished the program and met all the requirements, he said, but failed the national board exam. Therefore, he was ineligible to graduate. This crushed Keahi, and it was a dark time in his life.
Chaminade University
During medical school, Kumu Lake had become very sick. Seeing Kumu Lake in his current state, it snapped Keahi out of his disappointment, and he went to help Kumu Lake. In 2007, Keahi helped by stepping into Kumu Lake's classes as a substitute when he was too sick to teach and taught off his notes. He did this in addition to going back to the legislature to work and teaching at a Hawaiian immersion school.
"I was very small in a very big pair of Kumu Lake's shoes. So, I'm trying my best to keep up his legacy," he said.
Keeping the classes moving forward, Kumu Lake's illness progressed, and Keahi ended up substituting the whole semester. Later, Kumu Lake asked Chaminade if Keahi could take over his teaching duties as a professor. Kumu Lake passed away in May 2008.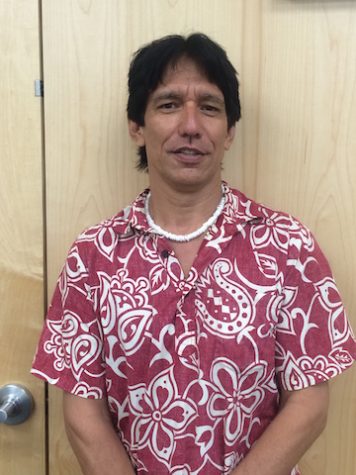 Keahi has now been teaching Hawaiian studies courses at Chaminade for almost nine years.
Broadcasting
When he started teaching at Chaminade, he also began a broadcasting job with the Hawaii legislature. When the legislature is in session, he runs the lower-thirds of the video, the text that comes up at the bottom of the screen. Keahi puts on information that if he were the viewer, he would want to see. He identifies the people so viewers can follow along easier; he defines terms and tries to make it relevant to the viewer. Keahi strives to connect people to the broadcast via the lower-thirds.
In all, working various positions, Keahi has been with the Hawaii legislature for almost 20 years.
Hobbies
In his free time away from Chaminade and working at the legislature, Keahi likes to go on edgy or risky adventures (safely though) such as hiking. He feels at home in the mountains. He enjoys hikes where there is a swimming hole along the way or a great view.
In addition, he is passionate about mentoring at-risk youth who are falling off the track.
Lastly, he considers teaching to be one of his hobbies. He is passionate about his Hawaiian culture and sharing the knowledge he received from Kumu Lake with his students every year.
The course of Keahi's life has been diverse, but there is one underlying commonality, his passion for helping others.
Whether is was mechanical engineering, the Marines, medical school, working at the legislature, Kumu Lake or teaching, his main goal was to make a difference through his works. Now, all of his talents have convened at Chaminade University.
"Kumu Keahi is a life coach," Moefu said. He teaches us not just the subject matter but also shows us a different perspective of life through culture."