Eating House 1849 redefines local favorites
In the newly restored International Market Place, Japanese-American celebrity chef, Roy Yamaguchi, opened the Eating House 1849 on August 25. Chef Yamaguchi incorporates Hawaii's favorite local dishes and his gourmet style cooking.
The Eating House 1849 is located on the third level of the International Market Place. With a contemporary French-country interior design, guests can feel sophisticated and comfortable while dining indoors or outdoors.  While walking into the restaurant, the main focal point will be the glass window looking into the kitchen. On some nights, Chef Roy Yamaguchi will be present in the kitchen along with his fine culinary staff.
Within a minute of arrival, the server will greet your table and happily answer any questions or recommend items from the menu. While looking over the menu, sesame-soy flavored edamame topped with togarashi flakes is brought to the table as a complimentary appetizer.
The menu is fairly simple and easily categorized by four sections: Pupus (Island Tapas), Garden Fresh, Noodles & Rice, and Land and Sea. The Pupus, ranging from $10 to $28, include a wide variety of delicious appetizers from Kapakahi Poke to Kiawe Smoked Szechuan Baby Back Ribs. One of my favorites, the Pork & Shrimp Gyoza appetizer, is a five-piece gyoza plate, served with a garlic aioli and spicy "XO" sauce.
For those who prefer a greener choice, the Garden Fresh section of the menu offers several dishes that go beyond the typical lettuce and dressing. Garden Fresh dishes include locally grown ingredients such as Otsuji Farm kale, Waipoli Farm butter lettuce, Sumida Farm watercress, and Nalo Farm arugula.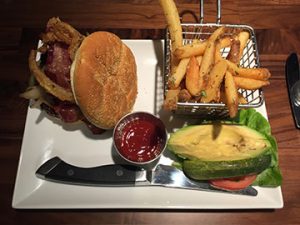 The Noodles & Rice and Land and Sea are where the main entrees are located. Familiar dishes, such as the loco moco or the burger, become redefined as gourmet presentations. The Hawaii Ranchers Loco Moco is served with a Kalei egg, cooked to your preference, over a fair sized beef patty which lies on a bed of fried rice then topped with a Hawaiian mushroom pan gravy. The flavor is sweeter than usual but Chef Yamaguchi's loco moco is a definite must-try. The Big Island Beef Burger, although smaller than the typical burger, is also a must-try. The beef patty is served on a toasted bun with lettuce, tomato, bacon, thick slices of gouda cheese, and topped with deep-fried maui onions. Accompanying the burger will be a side of seasoned french fries and avocado.
The entree section of the menu also offers choices such as Misoyaki Butterfish, Kiawe Smoked Beef Ribeye, and Vinha D'Alhos, which is a pork pot roast. Dishes in the Noodles & Rice and Land and Sea range from $18 to $35.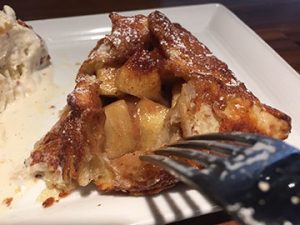 The dessert choices are located on a separate menu, which is presented shortly after the entree orders are put in. Chef Yamaguchi's signature dessert is the dark chocolate soufflé served straight from the oven with vanilla bean ice cream drizzled with a raspberry puree. The soufflé takes approximately 20 minutes to bake, therefore recommended to be ordered as soon as possible for the guest's convenience.
If the dark chocolate soufflé is too rich for your tasting, the Warm Apple Volcano would be an exceptional choice. The modernized apple turnover is baked to a flakey perfection with a warmed candied apple filling. This dessert is accompanied by a side of fresh fruit and vanilla bean ice cream.
With great service and delicious food, I highly recommend dining at the Eating House 1849. Chef Yamaguchi succeeded once again with a restaurant that will continue to share its food with the world.
For more information or to make a reservation:
http://www.eatinghouse1849.com
International Market Place
2330 Kalakaua Avenue, Space 322
Honolulu, Hawaii 96815