Needle-hater, Acupuncture-lover
The first needle she inserted was in the middle of my forehead, the spirit calming point. Somehow the forehead trigger point was completely painless. I was then free from all my worries.
The next 20 minutes featured a succession of sterilized disposable needles being inserted into my hands, arms, calves, feet and ears. Each insertion point was made for different reasons, from immunity and defensive areas to nerve system calming points, and so on. The needles are said to rise endorphins, increase blood flow, and balance your "qi" energy, a Chinese word meaning aliveness, life force energy, or life breath.
This was my first acupuncture experience and quite honestly I was dreading it. As a child, getting shots with syringe needles were the worst memories of my life so acupuncture never appealed to me for obvious reasons. Despite my fear, my teammate was able to talk me into it.
"I'm deathly scared of needles, but that's because I think something going in me or something being taken out of me is foreign, and that weirds me out on a certain level," said Tai Hawkins, a therapist at Kama'aina Acupuncture. "Acupuncture needles are much smaller and are not hollow, there is no external weirdness; they simply stimulate specific points of the body."
When pondering remedies for pain and stress relief the last thing you want to consider is having a stranger insert needles into otherwise untouched areas of the body, but the folks over at Kama'aina Acupuncture swear by it. Kama'aina Acupuncture is located right next to Waiola Shave Ice off Kapahulu Avenue and is dedicated to offering flexible and affordable treatments for both tourists and the local community.
The clinic was founded in 2009 by Joe Bright, a Chinese medicine specialist and teacher at the institute of Clinical Acupuncture and Oriental Medicine in Chinatown. Through teaching at the institute, Bright has employed several of his star students including my acupuncturist, Tai Hawkins.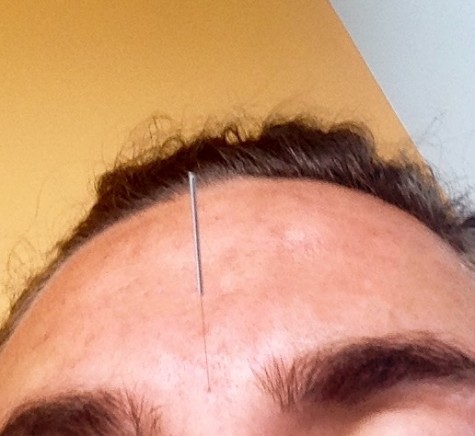 Hawkins was born and raised on the island and has been doing acupuncture for two years since she graduated from the four-year master program. She has also been a massage therapist for more than 10 years.
After entering the clean, green two-story building, your eyes are immediately drawn to the Buddhist decor and greenery artfully placed to fill the empty space of the waiting room. You'll then be greeted and asked to sit down for what seems like a brief diagnosis, but in reality it's anything but.
Attention to detail is extremely important for Chinese medicine practitioners. Checking my pulse was her first line of business. After a minute I asked what my heart rate was and she explained that in Chinese medicine it wasn't the rate that matters, but the quality of how the heart was beating. She rated my pulse by using three different hand positions which each have three levels.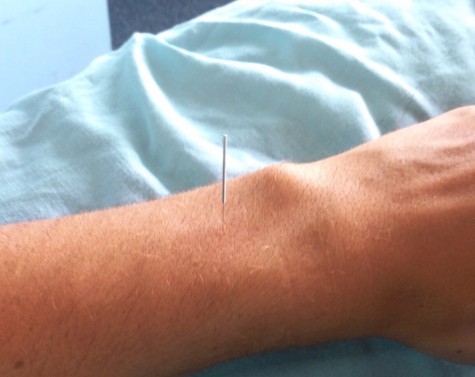 We then conversed in depth about my digestion, energy levels, sleep schedule, diet, and stress. She even analyzed my tongue in ways I didn't know were possible. She checked the moisture levels, shape, and color, as certain parts of the tongue represent different parts of the body.
Following my relaxing yet thorough diagnosis, Hawkins decided to focus on giving me an overall qi boost type of treatment, stating that it seemed I was not keeping up with energy output as a student-athlete. Her overall plan was to help chill out my mind.
The treatment room is located upstairs. Calm psychedelic and enchanting music trickled into my ears as I approached the top of the staircase. Depending on the treatment received, you may be placed on a massage table or in my case, a comfortable reclining chair. I leaned all the way back, shut my eyes, and hoped for the best.
My experience reached far beyond my expectations. I expected discomfort, awkwardness, and some type of fake placebo effect, but what I walked away with was the exact opposite. As a student and college soccer player I constantly feel anxious and overwhelmed. After just one hour of treatment I felt un-winded, worry-free, and slightly "high." Throughout the remainder of the day I kept noticing how unusually tranquil I felt, which could be credited to the acupuncture.
What I've learned from my treatment is to try new things, regardless of any prejudgements you may have. Acupuncture is virtually painless, relaxing, and extremely beneficial to your health. I'm now hooked, I'll be there again later this week.
"I never try to push or convert anyone into receiving acupuncture, but it's important to have an open mind because half of the healing is getting your mind and body into the mode where the repair work is done," said Hawkins regarding acupuncture newcomers.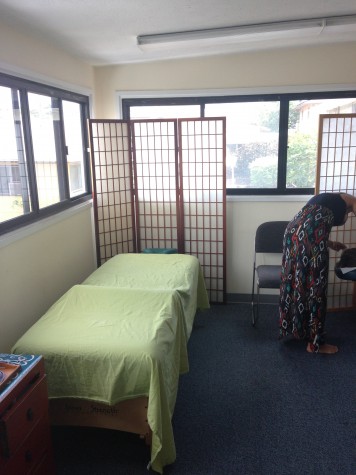 If you do wish to receive this ancient healing treatment, it won't hurt your wallet as much as you may think. Kama'aina Acupuncture is a community clinic so its rates are considerably lower than one-on-one practitioners. Its fees are based on a sliding scale of $20-$45, the client decides what they want to pay. There is, however, a $10 paperwork fee on your initial visit, but even this can be waived if you're suffering from financial difficulty. Give them a call, they want to help.
Kama'aina Acupuncture
3121 Mokihana St
Honolulu, HI 96816
808-735-6389
Mon-Fri 9 a.m. to 8 p.m.
Sat-Sun 9 a.m. to 4:30 p.m.