New home same love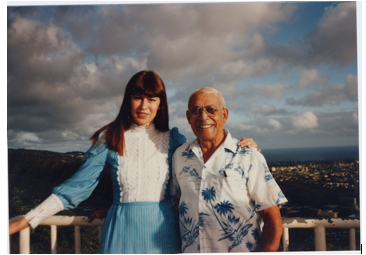 More than 20 years ago, Lilia Castle was a native of Russia and a professor at St. Petersburg State University. There she ended up giving tours and translating for a large group of American tourists visiting her country.
Among them was a man named Herb Weatherwax, who is still one of the oldest veteran survivors of the Pearl Harbor attack. When he and his wife Lehua learned that Castle was planning on visiting Western Washington University, he invited her to visit them in Hawaiʻi.
She came to Oahu in 1993, and now she calls Chaminade University and Honolulu her home.
Castle teaches philosophy and religion classes at CUH and has been here for 14 years.
The transition from Russia to Hawaiʻi wasn't much of a struggle for her being that she is doing the same work here. Although she does miss Russia it helps that she goes and visits every summer. What also helped her was that she has very good colleges, she loves her students very much and most importantly Chaminade being a loving and caring environment for her.
Moving to Hawaiʻi gave her the opportunity to experience the diverse cultures. She was able to learn about the Hawaiian culture and the practices done by the locals which she respects.
"I think that every culture is extremely important and Hawaiian culture is very beautiful, the same as other cultures it is deeply welled in its religion and so as long as people preserve the sacredness of their culture and practice these elements of this culture they will flourished," said Castle. "Each culture adds its own element, there is no such thing as less important or smaller cultures, each culture has its unique significance it is like diamonds that are suppose to be present for universal development."
Russia and Hawaii may be different in size but they do share some similarities. Russia admires their kings and queens and they also respect their culture just as Hawaiians do. The expression of personality and expression of the nature of people in dance are similar as well. In Hawaiʻi, Hula is considered to be a dance practiced by many, that would be considered similar to Folk Dance and ballet in Russia.
Folk dancing and ballet is a well-known practice in Russia, some even go to a special village once a year and use special costumes that they create with embroidery and pearls. They will play Russian music and dance Russian folk dances all together. The more talented people are given the chance to show off in the middle of a circle surrounded by everyone.
St. Petersburg is the city where Russian ballet was born. Vaganova was the great teacher, who lived at the beginning of the 19 century and she developed the school of particular exercises that seemed to produce. The best Russian dancers attend Vaganova school that is still in St. Petersburg.  They dance all over the world and continue to teach people throughout the world.
Russia will always be home for Castle and so will Hawaiʻi since she plans to stay here for a while.
In love with the ocean, considering it her first love, Castle was able to go from the Baltic Sea, Black Sea and now the Pacific Ocean.
**FYI:
In an amazing coincidence, Castleʻs father was part of a commemoration in which Russian soldiers met a group of American soldiers, which included Herb Weatherwax, in Torgau, Germany, in 1945. This was to a part of a historical meeting of U.S. and Russian soldiers in World War II.