The Movie Museum: A Unique Entertainment Experience
The Ward movie theater isn't the only option to catch a cheap film. The Movie Museum in Kaimuki is a reservation-based theater with 19 reclining leather seats and a bring-your-own-anything policy, but it's important to be respectful. Costing only $5 a movie, even less if you're a member, it's hard to believe this low-profile theater has remained a secret to so many.
The Movie Museum is tucked away inside a parking lot on Harding Avenue between 11th and 12th avenues. In 1989 movie buff Rick Kraemer opened the theater, it was then purchased in 1991 by Dwight Damon, who shared Kraemer's love of film.
From the outside it's impossible to imagine a movie theater inside the small white building. Upon entering, hundreds of rentable VHS movies stacked along the walls serve as colorful wallpaper. You're then greeted by Jaynie, who runs the place when Damon isn't in. Jaynie points to a small seating chart on the counter and discusses what seats are available. After picking a seat, it's time to walk down the very theater-like stairs that are standard in any movie theater.
What sets this place apart is its leather lounge chairs that are far more comfortable than expected. If you're tired and have a break between classes, spend just $5 for one of the most unique nap experiences of your life. The Movie Museum also has an extensive movie collection, offering thousands of current, contemporary, and vintage films for rent and screening, many that aren't available elsewhere.
Although the Movie Theater gives special attention to films that wouldn't be found in a typical movie theater, they also show various current blockbusters. From Steven Spielberg's "Bridge of Spies" to Tom McCarthy's Golden Globe nominee "Spotlight," the theater makes sure there is a movie for everyone. The Movie Museum is a plethora for all things film.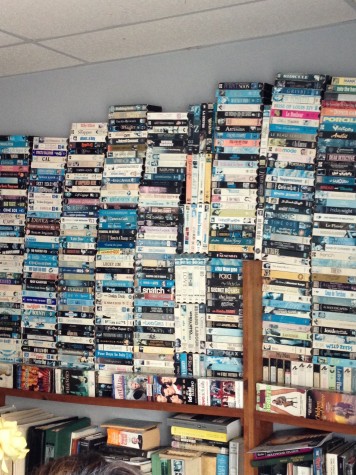 "You can bring your own snacks, but it must be quiet food, and you have the right to tell someone if they're disturbing the movie," said Damon when asked about bringing in items.
Besides snacks, many of the Movie Museum's reviews consist of people ranting and raving about bringing alcohol in, even though Damon doesn't encourage it. When I went to see "Pattes Blanches," a 1949 French film, I brought a few of my favorite beers for my friends and I to enjoy and it seemed no one even noticed. It's understandable that a passionate business owner like Damon doesn't want his business becoming a place where college kids go to party, but if done responsibly, a beer and a foreign film is a wonderful combination,
Damon takes a lot of pride in his business. It was easy to tell that Damon runs his business because he loves film and wants to give back to the film-loving community of Oahu. Many of his moviegoers are members which means the seats fill up fast. In fact, my first attempt to reserve a seat for the recent release "Everest" ended with failure.
This quirky movie theater is open Thursday through Monday from 12 p.m. to 8 p.m. So if you're craving a flick and don't want to wait in long lines or overpay for movie theater candy, reserve a seat at the Movie Museum.
To check out the Movie Museum's movie schedule or to reserve a reclining lounge chair click here.