'Narcos' excels on Netflix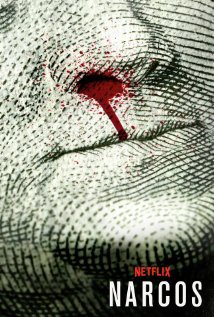 "¿Plata o plomo?"
This seemingly innocent question— "Silver or lead" epitomizes the evil violence Pablo Escobar displays in "Narcos,"
Everyone is talking about "Narcos," the Netflix show that was released in August 28 this year. The show is based off the true story of the biggest drug lord of the 1990's, Pablo Emilio Escobar Gaviria.
"Narcos" is the newest and the best show on Netflix at the moment. No better idea than to tell the story of drug lord that by the age of 28 already had way too much money to even count it so he would bury it in different country sides of Medellin.
This show is attractive because everyone knows or has heard about Pablo Escobar before, but none of us were there to see it. A film of violence and action is always exciting, but what draws the viewers' attention is how much power Escobar has and how he creates the Medellin cartel and the biggest distribution network of cocaine through Colombia and many other countries around the world.
Pablo Escobar, played by Brazilian actor Wagner Moura, is supposed to be a bad guy. However, his story is unique and super exciting because he was one of the richest men of his time. We're here to watch Escobar get into scuffle and fights with the military, and he literally does whatever he wants. Escobar was a dangerous and fearless man, but watching everything he did in real life on a show gets the audience at the edge of its seats and it also makes us like him.
It is absolutely insane how much power Escobar had in Medellin and also outside of his hometown. It is thrilling to watch how people fear Escobar, even the military was scared of him. He owned Colombia.
In season one, we are able to see that Escobar was not just a drug lord. He was actually involved with the community in Medellin and he would help out those who were in poverty. He made an impact in the community and "la gente del pueblo" loved him. The media was even calling him "el Robin Hood paisa," which translates in English to "the Hispanic Robin Hood."
The show is narrated by D.E.A. agent Steve Murphy, played by Boyd Holbrook. The fact that the story is being told by a cop gives the audience a feel of how bad the American government wanted to apprehend Escobar. Maybe in Season 2 we could see the story shift a little bit and see everything from Escobar's point of view. Clearly the D.E.A. wanted the kingpin of the Medellin cartel badly and Murphy tells the story how we felt about it. In the other hand, it will be interesting to see how Escobar would tell the story as well. That would be a twist in this exciting drug and violence show.
The 10-episode season of "Narcos" was a major hit for Netflix. There will be a lot of people impatiently waiting for Season 2 to be released including myself.