The importance of moped safety
Chaminade sophomore Cassidy Acord used her 49cc light blue Pronto moped as her primary means of transportation last year as a freshman. She lived on campus but drove her moped frequently to go on adventures or run errands.
But on an evening in March, Acord's carefree moped rides came to an abrupt ending.
"I was driving (a moped) in a neighborhood and a guy ran a stop sign, causing a head-on collision," said Acord, who is from Texas and was a member of the women's volleyball team last season. "It hit me more so on the right side, resulting in a shattered ankle, broken foot, broken shin, torn ACL, road burn, and some bruises."
Acord was not wearing a helmet but luckily she did not hit her head.
College students who come to Oahu for school are often looking for an easy way to get around the island. Most of these students choose to purchase or borrow a moped for its convenience and gas efficiency. However, many are unaware of the dangers that extra precautions that come with riding a moped.
Hawaii.health.gov states that deaths among motorcyclists were the sixth-leading cause of fatal unintentional injustices in the state of Hawaii, accounting for 146 total deaths from 2007-2011 – and 77 in Honolulu County specifically. Most of those were riding motorcycles, but 27 moped riders were killed. Only about one-fourth of all riders were wearing a helmet at the time of the crash, including only 7 percent of moped riders.
According to dean of students at Chaminade, there are only 17 registered moped riders but that number may be low due to students not acquiring a parking pass. Regardless, most students know someone who rides a moped or have ridden on one themselves.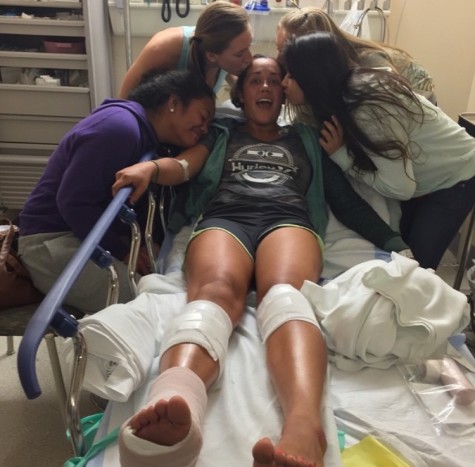 Chaminade sophomore Theresa Cameron was only a mile away from home in late August when a woman pulled out of her own driveway and into Cameron's lane, hitting the CUH student head-on while she was going 30 mph on her moped. The driver did not see the moped because it was dark outside.
Cameron suffered from bruises up and down her right leg, a swollen ankle, cuts on her shoulder, and a large bump on her head. She was also not wearing a helmet.
"Never ever text and drive on a moped," Acord said. "Don't speed, don't drive after drinking at all, mostly because you need to be extremely aware because 80 percent of the time, cars don't see you because they're used to looking for two headlights instead of just one. Also, try not to speed because if you ever need to brake suddenly, it's so not worth getting hit."
In Hawaii a helmet is not required by law while driving a moped. However, it is strongly recommended.
Cameron suggests that every moped rider scans at least 12 feet ahead of where they are driving. While driving at night make sure to wear bright colors and a good pair of driving glasses.
She is still mopeding, but with a new appreciation for the dangers that any type of moving vehicle can present.
"The crash was a real eye opener, you never think something like that is going to happen to you," said Cameron. "I've been riding a moped since I was 15, and I have never been more aware of my surroundings while driving than I am now. In the blink of an eye your whole life can change. I am so grateful that my accident was not worse."