CUH alumna living her dreams on TV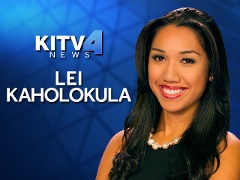 Small-town Kauai native Lei Kaholokula is living out her dreams as a news reporter for KITV4 News. Although it's almost been two years since she landed the job immediately after college graduation, Kaholokula still finds her life to be surreal.
"I wake up every morning really appreciative for where I am and what I do," Kaholokula said. "Sometimes I'll think back to my high school or college days and compare that to my life now. It's one of my Cinderella stories."
Kaholokula received her bachelor's degree from Chaminade University in communication in December 2013. Immediately after graduation, she began working for KITV4 as the morning traffic reporter and is now transitioning to weather reporting.
Every weekday, Kahololula wakes up at 2 a.m. to reach the news station by 3 a.m., where she updates herself with the weather and prepares for a two-hour morning show. Kahololula is then sent out on a news story where she must gather the story, write it up, and get it approved so it can air for the evening.
The lifestyle of the news industry is fast-paced, and everyday is unknown. Multi-tasking is necessary in this field as you may be developing several stories at a time, as well as being organized with the various work complied in a day. Undoubtedly, being a news personality is a difficult career not meant for many.
"The most difficult thing was building the courage to even get started. I had a habit of "self-sabotage"— doubting my own skills," Kahololula said. "But the first step to get rid of the second guessing and take the plunge, regardless."
In addition, Kahololula says it was also challenging to enter the industry with some training and then having to apply what you have acquired to match the station's needs. However, being able to put people's story together and telling it the way it is meant to be told trumps all challenges.
Kahololula made her debut in January 2014 and describes her first report as the "worst thing in the world." The non-stop practice leading up to the day did not prepare her for the real thing. Although she was not talking to a live audience but instead a number of cameras, it was still rough for Kahololula to swallow the fact that the cameras would be broadcasted to homes statewide. Eventually, she got over it.
For Kahololula, she always knew she wanted to be on television. She recalls watching KGMB9 (currently Hawaii News Now) with her grandmother. With her love for talking, Kahololula got a head start on her dreams and did the morning announcements at her elementary school, middle school and high school; she also wrote for her high school paper and emceed all school events.
It seems Kahololula got all the practice she needed and transcended her experiences into pageantry. She was Miss Garden Isle and also placed second in the 2012 Miss Hawaii state competition.
"With pageant, its all about poise, presentation, and communication. That's virtually the same with being a news personality."
Kahololula suggests that students pursing a career in news need to gain as much experience possible, to get in the habit of writing for different audiences, and to shadow veteran reporters. She also recommends students record themselves on video to analyze their performance and then improve them. Above all, learn as much possible.
The future is uncertain for Kahololula. As a newly wed (she married Kaha'i Choy on Kauai in June) and a future mother, she has not given much thought into her future.
"You'll just have to check back with me in another interview," Kahololula said.