Chaminade Professor performs in MVT production, 'In the Next Room, or the Vibrator Play'
The fact that Chaminade's professor Allison Paynter chose to participate in "In the Next Room, or the Vibrator Play," which is full of sexual euphemisms and double entendres, is not surprising. She is, after all, an unconventional educator who transforms poetry and theatrics into an easy learning material.
Paynter herself is a paper poet, which is a more traditional approach. She dabbles and enjoys all kinds of poem forms from rhyme, flowy or structured. The way She expresses the collaboration of acting and creativity into her poetry classes at Chaminade are through monologues, performance poetry, and creative writing sessions with her students.
Paynter started acting straight out of college. She performed in community theater in Oakland, Calif. Before joining a repertoire group called Ed Bullins Theatre that showcased African-American plays for the greater public.
Paynter earned her bachelor's degree from the University of California in Berkeley. And then went on to receive her master's and doctoral degree at Washington University in St. Louis, Mo.
At Chaminade she is a part of the Haitian Studies Association, Modern Language Association and the Pacific Ancient and Modern Language Association as well as being the head producer and teacher for Chaminade's Aulama literary magazine.

When Paynter became more interested in literature and poetry she moved away from the acting world to pursue performance poetry. She now teaches upper division poetry and literature at Chaminade University.
An important tip she learned was to watch her rhythm while saying her lines.
"I can't be to rhythmic to sort of lull you, and make you forget you're listening to important words," She said.
Paynter's way of describing the difference between performance poetry and acting are the way you say the words.
"The audience has to be a part of the conversation, privy to the conversation. So I don't know you're there." She said.
"But, in performance poetry, I'm very aware that you're there. That you are my audience," Paynter said.
Paynter came across "In the Next Room, or the Vibrator Play" and was instantly engrossed. This is Paynter's specialty, a subject she studied for some time and in her favorite era of the 1900s. She went to the auditions and landed the part of Elizabeth, the in-house nurse who feeds the doctor's young child that made her acting debut on Oahu.
"In the Next Room, or the Vibrator Play," written by Sarah Ruhl, is based in the 19th century in New York City. Dr. Givings has clients that he leads into the next room for treatment with a vibrator machine that Thomas Edison made possible with his newest discovery of electricity. In the other room is Dr. Givings' hysteric wife listening and wondering what happens during these "treatments." The play goes on and Dr. Givings' wife finds out what goes on during the treatments. She doesn't understand, until the end of the play that women can have pleasure as well as men.
This play touches on the history before the 20th century American and European men, counting physicians, believed that women did not experience a sex drive or pleasure. Women in that era were simply fleshy vessels for their husbands to relieve their lust. The woman's only duty was to put up with sex to keep their husbands happy and bear children.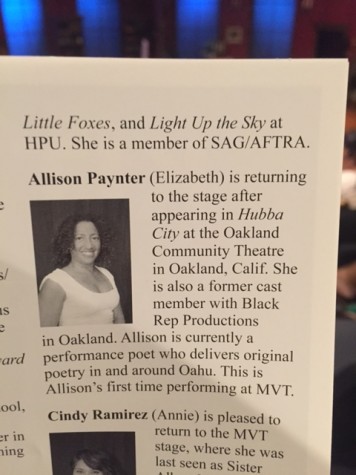 One of Paynter's favorite memories of this show are the rehearsals.
"We got to get to know each other's roles, explore the range of our character and we even had to write a biography based on our characters; where they came from, what they're doing, what their goals are." She said. "That was exciting. We really got to inhabit who we got to play onstage."
Working on the show provided Paynter with a better realization of all the moving parts that go on backstage to help make a show happen.
"The need to present good theater is not just the actors, we are one important part but not the whole play," she said.
Paynter is interested in pursuing more roles as an actress in the future.
"I need a little bit of breathing room in-between," she said.