Foreign students gravitate to Chaminade
Three young international adults have left their homes in order to further their education abroad. Rik Derran of Micronesia, Stella Paea of American Samoa, and Andreas Brutus Eugen Saetersdal of Norway were willing to go the extra mile or 2,000 in an attempt to sharpen their academic knowledge at Chaminade Universiy of Honolulu.
The young travelers were eager to begin their next adventure for varying reasons. Paea and Derran love their homes but feel they would not be as capable in the future if they did not venture abroad for higher learning. Saetersdal left because he wanted to explore and enjoy warm tropical weather instead of his chilly homeland.
Paea was skeptical that her local college could provide a satisfactory education.
"American Samoa is not as developed as it is here in Hawaii, and in American Samoa, we only have one community college," Paea said. "That's it for the whole island, and they don't offer too many majors I guess or options for you, which is why we want to come out of the island to further education."
These three are a part of the 134 international students who attend the university. This portion of the student body is forced to deal with circumstances and trials that are uncommon to the majority of their peers. They also are able to gain a unique perspective on matters since they have an outsider's fresh perspective.
Paea originates from a small village 2,600 miles away in American Samoa called Vaitogi, where she lived with three brothers, three sisters, and her parents. She is a sophomore pursuing a degree in nursing. Because of limited amounts of financial funding for school, Paea is working as a certified nursing assistant to make it through school.
Although Paea, loves her home she has no desire to return home after her academic journey is finished at Chaminade.
"I'm not gonna go back and stay there," Paea said. "Honestly if you're gonna stay in American Samoa, there is not much to get from there."
Derran has an opposite opinion, however, and desires to return home in order to better the community as a lawyer through his liberal arts degree.
"I want to go back home, try to change what I can for the best, make things better," the freshman said.
Derran is from the state of Chwuuk in the Federated States of Micronesia, which is 3,000 miles away. He grew up with his parents, three younger brothers, and two younger sisters until he recently left for his schooling this semester. Derran has goals to help out his home upon completing his degree.
"Like you said, you don't know about the places I just told you," he said. "I'll see if I can get it on the map."
Paea and Derran had struggled with being homesick since they had not been away from their families until they moved to Oahu. Saetersdal, on the other hand, was content with the distance between his home but was having trouble in classes because English is his second language. This was a reoccurring problem for him since he started in Fall 2014.
"English is my second language so I had to work hard, at least my first semester when I was here," Saetersdal said. "I worked extra hard my first semester so I could do my homework faster. Now everything goes a lot faster than it did."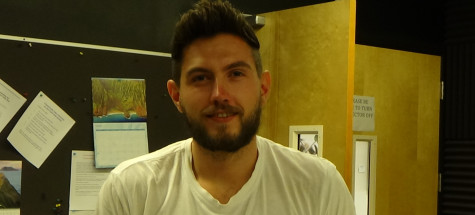 Chaminade has a noticeable percentage of students who are coming from other countries to attend classes. According to the Office of Institutional Research, 34 percent of the 1,222 students enrolled claim residence outside of the state and 11 percent are from a foreign country.
These three felt like they would be able to provide useful ideas to any peers who may be in the same situation as them.
"What I would recommend is to be a social butterfly," Paea said. "Don't exclude yourself from everyone else. Don't isolate yourself. Just be out there. If you want to move into a different place, then it's you who has to adjust to everybody else, but you don't have to make a lot of changes to yourself. Just having an open mind and an open heart, you'll do fine wherever you're at."