Tubing with Kauai Backcountry Adventures
I was tubing through the sugar plantations of Kauai for 45 minutes floating through the water. We went through a total of five caves during the tour, with one of them being three-fourths of a mile. We were in the caves as the water sent us floating through the stream, some parts were rough and others were calm.
Tubing through the old Lihue plantations gave me a chance to admire the beauty of my surroundings that not many locals get an opportunity to see.
Kauai Backcountry Adventures provides zip lining and mountain tubing services. I was able to travel to Kauai and participate in the tubing adventures stationed in the Lihue plantation lands.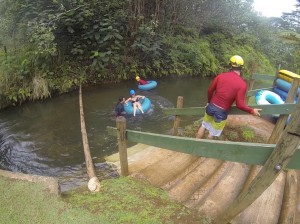 I first heard of this activity through a friend whose family owns the company. I was interested in going on this adventure and decided to plan a trip to Kauai with three other friends and signed up for this tubing experience. We all went in the morning to KBA and began our journey through the old sugar plantations.
We were given helmets with headlights that could be turned on for when we entered the caves, gloves, and water shoes and hopped in the tubes. We had two tour guides named Boom and Hollywood, both of whom made my tubing adventure memorable. They provided Hawaiian history about the Lihue plantations. As we entered each cave, Boom and Hollywood would sing in Hawaiian, providing musical entertainment, which made the tubing experience incredible.
Before we began our tour, the guides explained the safety rules before entering the water. As they were explaining the history, they also informed us about which movies were filmed on the land including the explosion scene at the beginning of Tropic Thunder and Jurassic Park. They suggested different places for us to go to around the island. When we met them, they called us their ohana, which means family. The aloha spirit they showed us was a great start to the day.
"I've never experienced anything like that before," said Victoria Alvarado, senior and Criminal Justice major. "It was such a rush of excitement and having to go through the caves was just the icing on the cake."
When the tour came to an end, the tour guides took each person out of the water one by one. As they were doing so, I was told that the company had a tradition about dumping one of their tubers into the cold water and they chose me to be that lucky contestant. I tried swimming away as fast as I could, but they got my tube and flipped me into the water.
After we all got out of the water, our tour guides took us to a picnic area to have lunch. There was a volleyball court, picnic tables, and a natural swimming hole for everyone to go swimming in after lunch. Overall, this was a great experience that I would suggest to anyone who is planning for a getaway to Kauai. If interested in making a reservation, KBA can be contacted at (808)-245-2506.
About the Contributor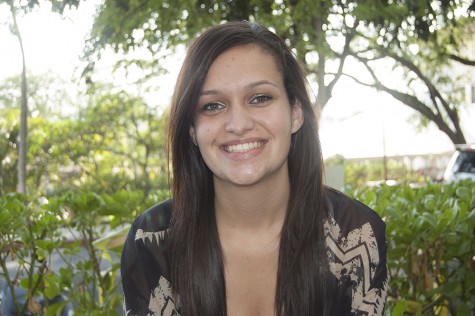 Alicia Mussman, Staff Writer
Alicia Mussman is a senior at Chaminade University majoring in Communications and will be graduating in May 2015. Mussman is originally from South San...