Ice Cream Fondue Overload
I've always scrolled through Instagram and seen a picture that can't be missed because just by looking at it, anyone will fall in love at its cuteness.
As soon as my eyes laid on this picture, all I could think about is where can I find me this dessert! It was love at first sight.
It's a picture of a dessert consisting of 15 heart-shaped ice cream that comes in the green tea, chocolate, and vanilla flavors, a good amount of marshmallows and brownies, served with chocolate fondue.
Although I haven't tried ice cream fondue before, there was a lot of hype around this certain dessert that suggested it was worth the try. This dessert can be found at a modern tea cafe called Tea Farm Cafe. It is located at 2600 S. King Street in Honolulu, just around the corner of Ninjiya Market on University Avenue.
I decided to go there around 8 p.m. with my boyfriend. I heard parking was a bit of a problem from reviews, but we were able to find street parking in just a few minutes.
Inside the cafe, it was well lit and had a calm ambiance. The music is symphony-like, which adds a soothing atmosphere that's great for studying or relaxing.
It was interesting that the cafe had a shelf display of the many varieties of tea offered there. Toward the back of the store is a little lounge area with a bookshelf that has a moderate amount of literature to choose from.
The cashier was friendly and approachable. He was more than willing to go over the menu with us, but from one look of the menu, trying to choose a tea to drink can be overwhelming.
The Tea Farm Cafe offers about 80 choices of tea, so I decided to pass on that option and head straight for the ice cream fondue. It cost $25. There was also the choice of building my own Ala Carte Fondue by adding $5 more for brownies, strawberries, and bananas.
The ice cream fondue is a bit too much for just two people. A party of 3-4 people is best in finishing this dessert. I loved the idea of bite-size ice cream dipped in chocolate, but after a while everything felt like an overload of sugar. I guess this is where tea would have been a great idea to balance out the sugar.
Once I'm feeling the urge for a sugar rush again, I'll definitely get the s'mores platter and try out the peach white tea on my next visit with a group of friends! The Tea Farm Cafe is a great spot for many college students during finals. It's not too noisy like most cafes and it's open until 10 p.m.
This cafe stands out from many other tea places because it's tea is made with actual herbs and the dessert menu is like no other.
About the Contributor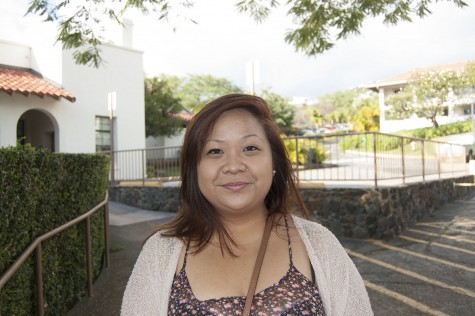 Britney Galapon, Staff Writer
Britney is a senior at Chaminade University of Honolulu. She is majoring in Communications-Marketing and minoring in Business Administration. Britney enjoys...