Caring Crocheter knitting for USO newborn babies
Regina Pfeiffer has been crocheting blankets for the USO as a volunteer providing a home away from home for families whose loved ones are serving in the military.
Pfeiffer thought it would be a good idea to share her talent here at Chaminade resulting in starting it as a service-learning project in Fall 2014.
"I thought it might be something that student who wants to do service-learning will be interested in because time constraint that students often have," said Pfeiffer.
Not only do students crochet blankets but also make newborn beanies for the USO to give to military families when they have a baby at Tripler Hospital.
"It's cool because we were able to help out military families," said 20-year-old former Caring Crocheter Lawrence Birch. "They do so much for us that it was nice to do something back for them."
About the Contributor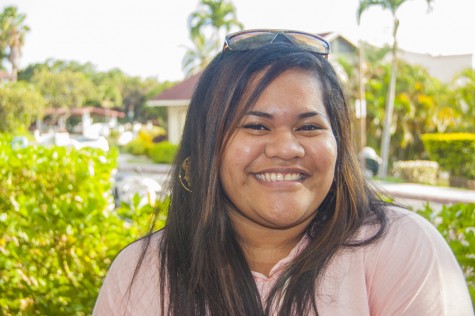 Victorian Lang, Staff Writer
Victorian Lang is from the heart of the Pacific called American Samoa and is a senior at Chaminade University. Victorian plans to move back home after...