12 dates of Christmas
With school coming to an end and the cozy winter season getting in full swing its time to make things magical. From traditional Japanese cuisine to the spices of Jamaica, this holiday season spice things up with Honolulu's twelve most unique restaurants. Take your special someone on a date she will be sure to remember.
Enjoy a candlelit dinner with vases that hold a single rose. Located in McCully Shopping Center, Phuket Thai is a restaurant that is sure to make things romantic. They accept reservations and parking should be easy to find. The quiet ambience and spacious room are sure to impress.
Price range: $11-$30
This hole-in-the-wall is an ethnic restaurant serving Moroccan/Lebanese/Mediterranean cuisine. Located in the heart of Chinatown, Kan Zaman is a unique experience if you're in the mood for something exotic. The street parking may be difficult to find but the food is delicious. If you go at lunch I would suggest trying the chicken or lamb kebab sandwich, the flavors are amazing. They accept takeout and reservations.
Hint: If you like nature I would suggest requesting its outdoor seating, as they have a beautiful patio surrounded with trees.
Greek: Olive Tree Cafe($$)
Pop-open a bottle of wine and enjoy a casual dinner at this charming Mediterranean restaurant. It offers mostly outdoor seating, which creates a natural ambience. Arrive early and catch the beautiful Kahala sunset, especially since it doesn't take reservations and seating is limited. They are cash-only and B.Y.O.B. In case you forget, a wine store is conveniently placed right next door.
This Japanese sushi bar is perfect for a trendy date night. The room is spacious room and the lively ambiance is sure to break the ice, it even offers romantic outdoor seating. It has a happy hour from 4 p.m.-6 p.m. and a late night happy hour from 9 p.m. until close. Doraku is conveniently located off of Waikiki Strip, takes reservations, and offers parking validation.
Vietnamese: The Pig and the Lady
With a place as unique as its name, you'll understand why all the hipsters come here. As you walk through the doors, the ambience is down to earth, with high ceilings and brick walls. The interior looks like the inside of a tree house, with driftwood hanging from the ceiling, and plants that landscape the restaurant. Relax for lunch or enjoy a casual dinner with a full bar, great cocktails and a menu worth experiencing. Located in Chinatown, The Pig and the Lady is an artsy place to take your date. It takes reservations but you must find street parking.
Take her somewhere lively and experience an authentic outdoors Mexican restaurant. Enjoy your dinner on large picnic tables, with the sounds of a mariachi band accompanying you through the speakers. Decorated with Christmas lights and the colors of Mexico, it's an upbeat atmosphere to take your date. Located in Manoa, the parking is convenient and it's never too crowded. At Serg's, its always a good time, not to mention it's B.Y.O.B.
Sit back and relax, with some Italian pasta and wine. The
quaint decor makes for an intimate ambiance.
With Italian food that is hard to beat and friendly service, La Cucina is a perfect place to make both your date and your taste buds happy. Make reservations as they get busy.
American: Pint + Jigger ($$)
If brews and burgers are your thing, than Pint + Jigger would be a perfect match. It's great for a casual date, with a laidback atmosphere you would expect from a gastropub. With a variety of beers, and food that will leave you satisfied, this is the place to take your outgoing date.
Located off King Street, Pint + Jigger take reservations and is great for late night.
 Don't forget to try its bacon-wrapped strawberries.
Caribbean: Jamaican Irie Jerk ($$)
If you
want an upbeat date with good vibes and some reggae, Jamaican Irie Jerk is the spot. Located next to Earl Sandwich, this restaurant brings the flavor of Jamaica to Hawaii.
It features grinds like: Jerk Chicken and Pork and great vegetarian dishes.
Don't forget to bring some drinks as it is also
B.Y.O.B.
Indian: Himalayan Kitchen ($$)
Unwind at a roof top restaurant, and enjoy the spices of Himalaya. The subtle music gives you a taste of the culture, while the artwork that surrounds you will transport you across the world. Lit with Christmas light arches and outdoor plants, the Himalayan Kitchen is a hidden treasure, and perfect for a romantic date with an ethnic twist.
Above the busy city, you and your date can relax and enjoy a glass of wine (or two) as it is B.Y.O.B.
Take your date to eat somewhere unique and enjoy the modern ambiance of Dagon. A fusion of Chinese and Indian make up the Burmese cuisine, a combination that will amaze. Newly renovated, clean, and decorated with cool artwork, the food is just as elegant as the atmosphere. Great for vegetarians and foodies alike, this ethnic restaurant is also B.Y.O.B.
Dagon is easy to find (right across the street from the McCully post office), while the street parking may be a little harder; but if you go late enough, you can usually find a spot. 
Cuban: Soul De Cuba Cafe ($$)
Impress your date with this rare find. Introduce them to Cuban cuisine with Soul De Cuba's amazing sandwiches and flavorful meat dishes. The cultural artwork and prints create an authentic experience. Located in Chinatown, they take reservations but you must find street parking.
About the Contributor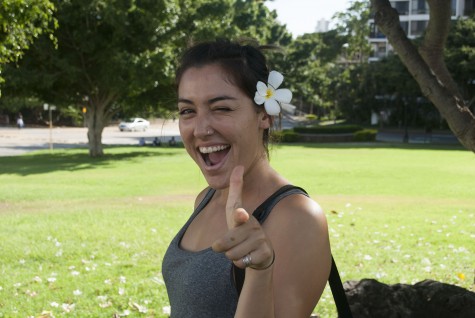 Theresa Capllonch, Staff Writer
Theresa is from the beautiful island of Oahu and is majoring in marketing at Chaminade University. As a softball player for the Swords, she has a competitive...