10 DIY gifts for broke college students
The holidays can be a money muncher if you're a cash-strapped college student. Even those with a full-time job, find it hard, so its no wonder if you're struggling to give gifts to your nearest and dearest. Whether you're trying to save money or just want to do something more personal this year, there are numerous ways that you can whip up your own DIY gifts. Many of these projects take little time and some simple supplies. So here are our top 10 most personable, cheap Christmas gifts for you:
A perfect way to remember all those great memories is through pictures. Gather up all your memorable photos of your friends and family to create a photo collage that will remind your recipient of all the good times you've had together. Frame it, or put it together in a scrapbook to make a gift that will last for years.
Have your friends or significant other show the world your friendship and give them a gift they can wear. Not only are the bracelets fashionable for guys and girls, but with rubber bands you are able to personalize each one with their favorite colors. All you will need are a bunch of small silicone rubber bands you can find at Longs, Ben Franklin, or even Don Quiote and a little bit of patience.
For your not so ordinary friends, a plate clock is sure to be a hit. Make them a unique clock that they can hang around their dorm for only $5. All you will need is a pretty paper, ceramic or even license plate as well as a clock kit, which you can find at WalMart, or Ben Franklin, or another craft store.
Give the gift of deals that will make your friend, lover or family jump for joy. Whether it's coupons for kisses to your significant other, coupons to do the dishes for your parents, or a coupon to cook dinner for your roommates, these coupons are sure to put a smile on their face.
For your creative friends, perhaps a cookie cutter frame would be the perfect sentimental homemade gift. All you will need is scissors, a cookie cutter, glue, pencil, and a photo of your choice. Cut the photo the same size as the cookie cutter, glue the picture onto it, and voila, a cheap picture frame.
Instead of giving coal, give stones and write your friends a message that will last a lifetime. They can use it to display in their house, on the dashboard of their car, or even in their bag for good luck. All you will need are some cool stones you can find on the ground somewhere and some nice sharpies. Write a word, phrase or even a drawing on a stone that is as solid as your friendship.
Do you have a messy friend? Help them keep organized with some beautiful origami boxes which they can use store small items. You can buy origami paper from Ben Franklin, or make it yourself by cutting paper into squares.
Surprise your coffee addicted friends, with a gift that will make them smile every morning, a painted coffee mug. All you will need for this simple DIY is a plain coffee mug you can find at Ross or T.J. Max and some colored sharpies. Get creative with a gift they can use.
Share your feelings or even your amazing taste in music with a gift that keeps giving. All you need is a blank CD and some awesome song selections. If you want to make it even more special, you can even draw something epic on top of the CD to show of those drawing skills. 
Create a one of a kind duct tape wallet that your friends and family will love. Durable, long lasting, and easily customizable with all the varieties of duct tapes nowadays, all you will need is your selection of tape, scissors, a ruler, and a pen to craft this handmade masterpiece.
About the Contributor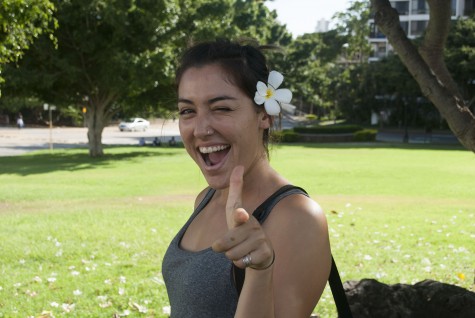 Theresa Capllonch, Staff Writer
Theresa is from the beautiful island of Oahu and is majoring in marketing at Chaminade University. As a softball player for the Swords, she has a competitive...