Ten Best Rappers Ever
Rap and hip-hop have solidified its place in America and is growing rapidly. There might be thousands of rappers featured within the United States and beyond, but only a handful of rappers and hip-hop artists have truly represented the genre and lifestyle to the fullest.
From its humble beginnings in New York in the 1970's to the new sound of today, the artists featured on this list are the 10 best rappers ever.
1. Tupac Shakur was originally a dancer for the rap group Digital Underground before embarking on successful yet tragic career as a solo rap artist. Tupac quickly rose to fame in a few short years in the early 90s. Unfortunately he was plagued with lawsuits and negative media portrayal along the way due to his aggressive lyrics and thug life persona. He was a rapper capable of being sensitive as well as ruthless and violent, seen in songs such as "Dear Mama," and "Hail Mary."
2. Eminem aka slim shady aka Marshall Mathers was born and raised in 7 Mile Detroit and discovered by the West Coasts own Dr. Dre in the late 90s and together they made legendary music that brought Eminem to superstar status. Eminem quickly became known for his controversial and intricate rhyme pattern while rhyming over West Coast beats. He has solidified his place in hip-hop and still has a huge fan base.
3. Lil Wayne is from New Orleans and became the youngest to ever join the music group Cash Money records at the age of 9. Since then he has risen to the level of superstardom and an international icon. He is known for his unwritten "off the top" lyrics in which he makes up right on the spot when he hears the beat. His style is laid-back yet ruthless and continues to make hits day after day.
4. Nas is a smart and cunning rapper hailing from the streets of New York. Since 1994, Nas has released eight consecutive platinum and multi-platinum albums and sold more than 25 million records worldwide. Properly portraying the New York state of mind, Nas has intelligent lyricism and great style that go beyond the streets. From listening to his raps, you can tell he is a smart person and continues to make popular music.
5. Jay-Z is another rapper from New York who has hustled from the gritty streets to being rap's first billionaire. If there's one thing to know about Jay-Z it is that he has a lot of money and an equally, if not more famous wife Beyoncé. But it all started with his true-life lyrics that depicted his struggling life as a drug dealer and the classic contemporary beats that he chose.
6. Snoop Dogg aka Snoop Lion (his new name) is known for his smooth lyrical delivery as well as ruthlessness in the beginning of his career. Snoop is from Long Beach in Los Angeles and made his name known rapping over classic beats by Dr. Dre. Since his beginnings, Snoop has remained happily in the rap game for more than 20 years, starting as a street gangster to international peacekeeper.
7. Big L was born and raised on the hard streets of Harlem, NY. With a high paced, on point flow, L commonly used metaphors in his rhymes. He gained a big fan base because of this and his ability to paint pictures using words. He is another great storyteller who in 1999 fell victim to the violence in which he so eloquently described in his rhymes.
8. Talib Qweli made a name for himself in the underground hip-hop scene in Brooklyn, in the mid 90s. He is known for his conscientious and intellectually rhymes. Topics he covers include racism and police brutality. He is not a rapper to brag about the material items he has but lets his rapping ability and message do the talking.
9. 50 Cent became a famous rapper after surviving being shot 9 times in the streets of New York. Another prodigy from Dr. Dre, 50 Cent took the rap game by storm in the early 2000s, calling out other rappers and starting drama in the rap industry. He introduced the world to a new and modern-sounding hip-hop that was aggressive and ruthless, coining the term after his debut album "Get Rich or Die Trying."
10. Ice Cube began his career in the gangster rap group N.W.A. but split with the group and began on a solo career. Cube personifies the West Coast gangster mentality with constant references to violence and the everyday struggles in the ghetto of southern California. He has since become and accomplished actor and continues to make music.
About the Contributor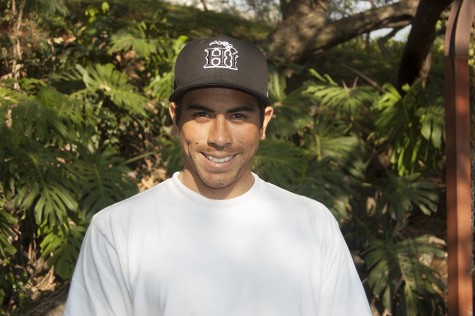 Peter Johnson, Staff Writer
Peter Johnson is a senior transfer student from a small quiet coastal town in California called Half Moon Bay located a half an hour south of San Francisco....