Manoa Pizza Parlor Focuses on Fresh Ingredients
Located in the corner of the Manoa Marketplace shopping center between the Longs and Safeway is the newest pizza parlor called Serino's.
Serino's opened officially back in March and serves a large variety of pizzas, calzones and salads as well as a gluten-free crust option.
The restaurant is in a small area, which includes windows where people can see their pizza being made fresh in the kitchen.
Pizzas take anywhere from 15 to 20 minutes when ordered, or customers can buy by the slice with a choice of cheese, pepperoni or a chosen specialty pizza, which stands in a revolving case next to the register.
Because of its location, customers can walk around and grocery shop or run errands while their pizza is being made.
The atmosphere inside is modern and clean, but its small size would get claustrophobic if the place got busy.
My experience at the pizza parlor was pleasant. Upon walking in I was greeted by the pizza parlor's owner who was working the front cashier. He was a nice older Italian man who likes to be called "Mr. S."
The pizza parlor is named after him, but instead of people saying his name again and again he said "Mr. S" is easier to remember.
Since it was my first time there, I asked what the most popular pizzas are he replied there are three favorites.
The Carnivore includes traditional sauce, extra cheese, salami, pepperoni, Italian sausage, ground beef and ham.
The Hawaiian had honey bbq sauce, cheese, ham, bacon, roma tomatoes, red onions and pineapple.
Finally the Margherita pizza includes traditional sauce, chopped garlic, cheese, fresh basil, roma tomatoes and mozzarella.
The restaurant serves 17 different specialty pizzas. The small is 12 inches and costs $20, large specialty are 16 inches and are priced from $23-$25 dollars. The gluten-free pizza, which only comes in the 12-inch variety, is priced at $25.
If the specialty menu is too confusing, there is also a made-to-order section in which to make your own custom-made pizza. You can choose the pizza size, the type of sauce and topping for $2 each.
After reviewing the menu that is filled with all kinds of specialty pizzas and other Italian cuisine, my friend and I decided to get a large Carnivore pizza.
The pizza was delicious with noticeably fresh ingredients. The dough, which is hand tossed, had a crispy outside crust but was doughy on the inside.
The sauce tasted homemade and when combined with heaps of melted cheese and the generous meat toppings provided my friend and I with a wonderfully savory, fresh and delicious eating experience.
The pizza did not stand a chance and disappeared within 15 minutes. With the wide variety of pizzas on the menu, I am excited to go back and would recommend Serino's to any pizza lover.
Mr. S is dedicated to bringing the people of Oahu the freshest, most delicious pizza's possible. All of the ingredients used are hand picked from Mr. S, from the flour used in the dough to the tomatoes for sauce.
Serino's hopes to differentiate from the competition from its emphasis on using mostly local and organic ingredients.
About the Contributor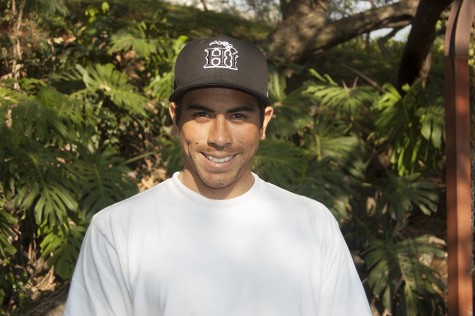 Peter Johnson, Staff Writer
Peter Johnson is a senior transfer student from a small quiet coastal town in California called Half Moon Bay located a half an hour south of San Francisco....