The Nook: Your Not-So Ordinary Bistro
The struggle is real when it comes to finding a cozy brunch spot in Honolulu. Many college students have to settle for a cheap fast food stop to satisfy their cravings, The Nook, if you have time to spare, it is a great place to add to your morning routine.
This hole-in-the-wall is a pleasant surprise. It offers a rare mix of exquisite dishes served within a welcoming café.
The Nook has a modern yet cozy ambience. Located on University Avenue it offers indoor and outdoor seating. The interior is decorated with local art and has a cozy cottage atmosphere while outside contains the essence of a sidewalk café tucked away amongst an urban garden.
With the help of community donations, owners were able to open their doors this past summer as a worthy replacement of the restaurant "Kiss My Grits," a southern-style eatery.
The menu does not disappoint and provides a unique twist on your everyday meal.
There's a open-face sandwich, aka the "BLT," which is created with a thick-slice of pork belly, tomatoes and mashed avocado, served with a pickled pineapple spear. If you like to spice things up, I would add a bit of the house-made hot sauce that will make your taste-buds happy.
The Mochiko Chicken and Mochi Waffle dish is a must try. With a local twist on your everyday breakfast, it is sure to satisfy both the sweet and salty cravings. Crispy on the outside yet soft in the center, the waffle is topped with mochiko chicken and finished with a light drizzle of savory bacon maple syrup. The flavor combination is nothing short of mind-blowing.
The Nook offers a local flavor on eggs benedict and pancakes too.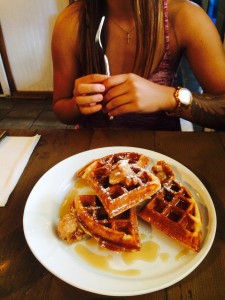 Aside from its main menu, it offers delicious scones and muffins baked daily from scratch. It also offers a variety of coffees and teas and daily specials that are sure to impress.
With great food and warm ambiance, be prepared for a wait. A smaller group is suggested, as the tables are small. It's not the place to go to if you're in a rush. The parking may be difficult to find.
If you aren't a morning person, you can still experience The Nook. The restaurant has a new addition called "The Cranny" which is the named for its late night window. Offered every Thursday and Friday from 7 p.m. till midnight. The Nook now offers a couple special dishes for the night owls.
I was impressed with The Nook's excellent food and great service. It offers an unforgettable meal, with a unique menu that will keep you wanting more. Be sure to get there early and prepare yourself for a wait as this up-and-coming bistro attracts more customers each day.
The Nook is open from 7 a.m. to 3 p.m. Tuesday through Sunday and is closed on Mondays. It is now open Thursday and Friday nights from 7 p.m. till midnight.
Brunch items $6 to $14
Open Tuesday through Sunday, 7 a.m. to 3 p.m.
1035 University Ave., 942-2222
About the Contributor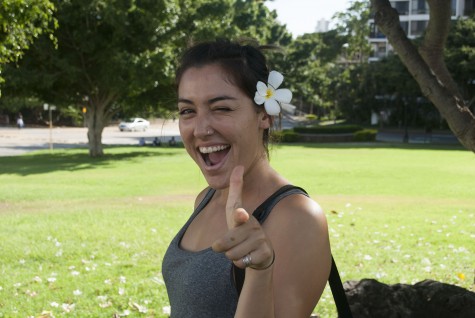 Theresa Capllonch, Staff Writer
Theresa is from the beautiful island of Oahu and is majoring in marketing at Chaminade University. As a softball player for the Swords, she has a competitive...