CUH Students perform 37 Shakespeare plays in 90 minutes
William Shakespeare probably never imagined a Juliet like the one in the Loo Theater on Friday Nov. 7.
In Chaminade's "The Complete Works of William Shakespeare (Abridged)," the lovely Juliet came in the form of a bearded male Chaminade student dressed in bad drag, wearing a cheap, pink satin gown and a tangled blonde wig with a neck strap. The audience reacted accordingly, erupting in laughter.
This was just one of the memorable funny moments from the showings for CUH students in the Loo Theater also called "The Black Box."
"Shakespeare Abridged" consisted of three actors: Adam Brewer (senior Psychology student), Byron Tangonan (senior Criminal Justice student) and Claire Paul (junior Communications student). This play was constructed around the sense that 37 of Shakespeare's plays would be acted out in a hilarious and exaggerated manner in the span of 90 minutes.
The 37 plays were given short spoken summaries or short acting parts, featuring a costume change or two. The histories were acted out like a strange game of football where players were assassinated one by one as one of the tragedies was made into a spin-off cooking show.
This play was enjoyable and works quite well as a comedy. This comedy relied on physical farce and slapstick routines while getting the audience to participate. The actors had many props at their disposal while accompanied by costume gags like boxers with ridiculous patterns of hotdogs and a sock being a ghost.
This play can only be described as many abridged skits of Shakespeare all acted out in one sitting. The actors were not given specific roles, giving them freedom to act crazy or wild. Brewer is usually a quiet, reserved person on his laptop, but in the play he was hyper, bouncing between the audience and the stage. He called random women "Lynda" and even sat among the audience before the play started, only to jump on stage when it was his cue.
I was handed prop plants as part of a scene from MacBeth and I was silently wishing not to get pulled on stage for the next gag of a psychology experiment on Ophelia from MacBeth. But it was an enjoyable experience. Few plays rely on audience participation. That usually happens as part of comedy acts or game shows.
In one scene Brewer, who was to act as MacBeth, refused to act out scenes from MacBeth and thus tried his best to sneak out, running out of The Black Box. Paul immediately chased him as he ran screaming, leaving Tangonan on the stage by himself with the awkward silence of the stunned audience.
It sounded like Brewer was running out of Ching Hall screaming at the top of his lungs with Paul chasing him. Afterward, props were thrown everywhere, unrealistic sword fights erupted then all three repeatedly faking death in a rushed fashion by flopping on the floor with an over-exaggerated twitch and thud. The audience continued bursting with laughter to the chaos throughout the play.
About the Contributor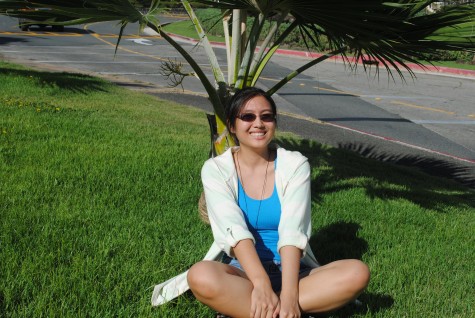 Dana Kojima, Staff Writer
Dana was born and raised on Kaua'i, graduating from Kapa'a High School. She is a senior at Chaminade University majoring in Communications - Broadcasting....