Mobile Vet Center truck stops by Chaminade
Mobile Vet Center truck stops by Chaminade University and welcomes all veterans to their services.
The Veterans Administration building, the local Veterans Center and the Mobile Vet Center truck help veterans make the difficult transition from military life back to civilian life. It's not an easy process  but most of the counselors and staff are veterans who understand what it's like to serve in a combat zone.
On Monday, Oct. 6, the Mobile Vet Center truck made its way to Chaminade's campus to provide services from 9 a.m. until 2 p.m. It was an opportunity for CUH students who are veterans to come by and ask questions at this one-stop service for benefits they need and are entitled to.
The Mobile  Vet Center truck helps veterans put in for disability claims, readjustment counseling, outreach and referrals services, advocacy, and the Post 9/11 G.I. Bill that helps with educational options.
A new feature was added this year, a certified VA nurse was on site administering the flu vaccination shot to all eligible veterans with a valid identification card.
"My role is health promotion and disease prevention," said Yvonne Geesey. "We wanted a presence here in giving out the influenza vaccine," said Geesey.
Geesey came on last year's stop to CUH  and she believes the traffic flow of veterans was a little higher than today. With the Mobile Vet Center truck parked on the third tier of campus, she believes the new parking garage has cut down on foot traffic from the top of the hill.
All services are free for veterans along with confidential counseling; every Vet Center's employee understands and appreciates every service person's unique and individual story.
Veteran Centers are Community based and a part of the U.S. Department of Veteran Affairs. The goal is to provide a broad range of services for soldiers who are on the edge and to let them know they have a voice.
CUH has a small veteran community of maybe a few dozen, on campus and it's important to reach out to anyone who needs help. That's why it's crucial for CUH Veteran representative Chris Purington and representative from the Honolulu and Kapolei offices to have an open line of communication, according to Rolly Alvarado, a VA technician with the Mobile Vet Center truck.
"We love letting veterans know about the services they're eligible for and might not be aware of," said  Michal Cohen.
Who is a social worker with  the Honolulu office of Veteran Affairs.
The Mobile  Vet Center truck comes to veterans on college campuses across the state of Hawaii to let them know what they have earned is available to them.
"If a soldier has served in a combat zone and when they get out they have five years of free health care provided by the VA hospital," Cohen said.
The Mobile Vet  Center truck gives  veterans a chance to get the word out about the services.
Second Lieutenant Mack Ocariza from Kailua is a junior and is studying Criminal Justice at CUH.
"I utilized the service once for my educational benefits but more promotion has to be done for veterans to take advantage of these opportunities," said Ocariza.
On Oct. 24, the Mobile Vet Center truck will be back on campus for the G.I.V.E Fair. This is another opportunity to spread awareness amongst the veteran community to stop by and see what they're entitled to.
About the Contributor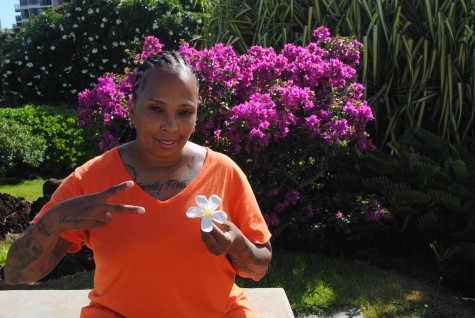 T.O. Turner, Staff Writer
T.O. Turner is from Boston, Mass., and is a senior at Chaminade University studying Communication/Broadcasting.  In her spare time, she likes to go shopping...