Norwegian exchange student expresses his passion for music
Kristoffer Lee Adams, 20, from Norway moved nearly 6,800 miles away from home to get a degree in Mass Communication and is one of Chaminade University's many international students.
"One of the positive things about studying abroad is that you will get a different set of experiences along with an education," Adams said.
In his free time, he likes to make house music. This past summer he entered a competition in Norway and won. The prize was to play at Hove, one of the biggest music festivals in the country. The festival has 62,000 visitors and features Norwegian artists, as well as a range of international artists such as Ellie Goulding, Imagine Dragons, The Offspring, Disclosure, Foster the People, Bastille and London Grammar.
Adams recently got a deal with the record label Ensis Records, which will be putting out his record in October. He is still skeptical about making music his main career choice because of the slim chances of making it in the industry.
"Since things are kicking off with my music, I still think of that as an opportunity," Adams said. "I do, however, want to finish my degree, so that I have something to fall back on if the music isn't working out. That way I have two possible careers within what interests me."
This fall, he entered the Haunted Wonderland Anthem Competition with his song "Haunted," which can be found online on SoundCloud.
Music is Adams' passion, but he wanted a backup plan with a degree in Mass Communication. To Adams, two factors were important when choosing schools: location and the majors that were available. He has lived on the U.S. mainland before, but wanted something different. Still staying within the borders of the United States, Hawaii seemed like the perfect fit. He is currently taking 13 credits, four classes with one lab.
Adams is half American (father) and half Norwegian (mother), but has spent most of his life in a city called Moss, located about 35 miles south of Oslo. Adams' father was in the American air force and stationed in Europe. He worked in Norway for a while and that was how he met Adams' mother.
He has always been drawn to studying abroad because of his father, who currently lives in Michigan. Adams then spent a year at Canton High School in Michigan as an exchange student, before returning to Moss.
Before coming to the United States for his undergrad in Mass Media Communication he studied a year at American College of Norway. Here, he got the credits he needed for his freshman year, so that when coming to the U.S. he could start right away with his sophomore year.
When asked if anything has been difficult so far in Hawaii he said, "The only thing I think international students would have some difficulty with is the language and understanding the school system. Since my dad is American, I am used to the language, and by attending The American College of Norway I learned much more about the school system."
Another organization that has been helping Adams is Study Outside Norway. It came to visit the American College of Norway and gave a presentation about different schools and Chaminade University was one of them. Study Outside Norway helps students get their paperwork in order and prepares them for their time abroad.
So far in the semester, he has only had positive experiences with the school, place and people. He has hiked Diamond Head, Koko Head and he as been cruising through the Waikiki area.
"Some say that being far away from home would be a negative, but that was exactly the reason why I wanted to go," said Adams. "I wanted to be traveling away from home. I obviously do miss my friends and family, but I think being away is a positive thing."
About the Contributor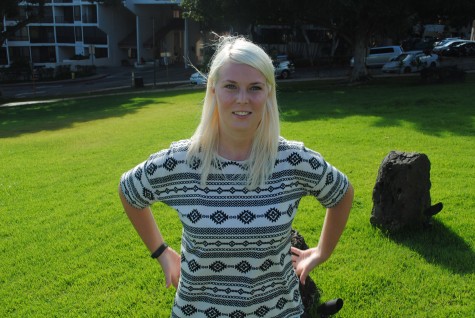 Suzanne Lian, Staff Writer
Suzanne is an international transfer student from Norway. She started out her bachelor's degree in Marketing Communication at Berkeley College in New York...