Fun facts about Guam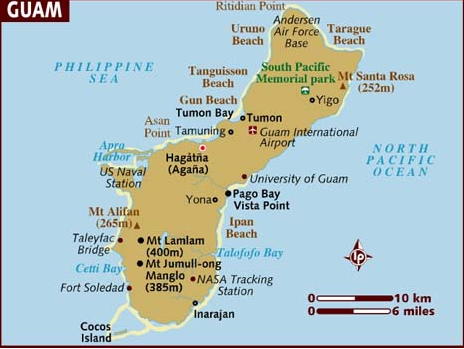 Many Chaminade students from came from Guam. People in the mainland either heard of the word Guam a couple of times or know that the island is a small dot on the world map. There is so much to do on Guam because it's similar to Hawai'i but on a smaller scale. Here are some facts about the little island.
Where America's Day Begins
Guam is an island that's a U.S. territory, and it's ahead of the international dateline. Time-wise, Guam is 20 hours ahead of Hawai'i time.
Almost as big as Moloka'i but more populated
Guam is 212 square miles while Moloka'i is 260 square miles. The island in the Hawaiian archipelago may have more land, but the Guam has more population. Guam's population is 162,810 and Moloka'i's population is around 8,000.
Territory claimed
Guam became a U.S. territory after the Spanish-American War through the Treaty of Paris on Dec. 10, 1898. During World War II, the Japanese captured Guam after right after the bombing of Pearl Harbor in 1941. The U.S. reclaimed the island on July 21, 1944. That day became an island-wide holiday called Liberation Day, and this year will be its 70th anniversary.
Weather
Because of the Guam's location near the equator, the summer heat is felt goes year round on the island. The rainy season pours from August through November.
Reggae all around
Bands such as SOJA, Rebelution, The Green, J Boog and many more have came to Guam to share the rastafarian music and vibes.
Stereotype
While people from the mainland ask if the people from Guam are Guamanian, the ethnicity is Chamorro. People from Guam are Chamorro.
Villages
Guam has 22 villages instead of towns and cities. Tumon, a little version of Waikiki, have some of the big hotel name such as the Hilton, Hyatt and Marriott.
Schools
There are a total of 83 schools on Guam. Five of them are public high schools while four are private high schools. Two of the private high schools are an all-boys and all-girls school, while the other two are co-ed.
American broadcast history
In 2006, Guam used to get the broadcast of American TV a week after it the airdate premiered. Today, it's now a day after the air date.
Interesting cuisines
Back in the day, Chamorro used to consider the Mariana Fruit Bat (fanihi) a delicacy. Today, the fanihi is an endangered species. Another delicacy is fritada. From the Spanish verb "fritar"(fried dish), it is more of a blood stew than a fried dish and is made up of chopped up internal organs of pork, beef, or venison cooked in fat and blood with onions, vinegar and spices.
Chamorro Month
Every March is Chamorro month, which is a celebration of the indigenous culture through fiestas, displays, concerts and dances.
Restaurant expansion
With the military buildup, more American restaurants are being built on Guam. This year, there will be an Applebees, IHOP and Eggs and Things.
Site seeing
There are a number wonderful of places to explore around Guam. Hiking spots such as Tarzan Falls is one of the best hiking spots. The trail is 1.4 miles long that starts off flat at first but gets steep in the progress.
About the Contributor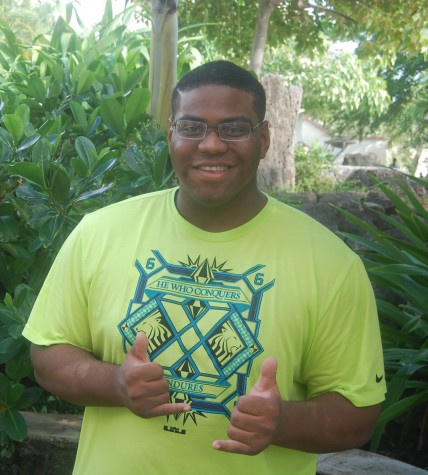 Dray Thompson, Staff Writer
Dray was born and raised from the island of Guam. He is attending his junior year at Chaminade University and pursuing a bachelor's degree in Communication/Broadcasting....