Chaminade junior helps Typhoon Haiyan victims, donates books
When Chaminade junior Joe Pallon traveled to the Philippines during spring break last month, he donated books to an elementary school whose library was in need of children's books. Teachers and students praised Pallon for his "kind heart" and "giving spirit."
But it isn't the first time Pallon has done something like this.
Pallon, who is full Filipino, has been involved a number of educational programs in the Philippines, such as Books for the Barrios and Gawad Kalinga, which translates to "Give Care" in English. He also participated in an anti-poverty effort for Gawad Kalinga, helped in building homes for families in need and visited Mexican orphanages. He is also a contributing blogger for New York-based organization UniPro.
"I've supported five schools and non-profit organizations in the past year," said Pallon, who is an International Trade major and has been at Chaminade since last semester. "Last year, I visited my mom's elementary school and seeing the conditions of the library was very, very sad."
Pallon, 26, is currently holding an open book drive for students who were affected by Typhoon Haiyan in November and the Muslim rebel attacks in September. People who are interested in donating can actually contact him and meet up with him around campus to give him books. More than 5,000 people were killed in the typhoon, while 100,000 people were displaced in the rebel attacks.
"The Philippines school year begins in June, and I'm hoping to at least get some schools ready for the new school year," he said.
While Pallon was living in California, he started up the book drive in June. But when he moved to Hawaii, Pallon has collected books since September.
But when Typhoon Haiyan occurred, Pallon made sure that his latest non-profit effort would be successful. He bought 54 children's books for $35 from Savers, and was able to fit all the books in two large cardboard boxes. Pallon is planning to send out to Bulacan and Iloilo, which are cities in the Philippines.
He is also accepting donations and is trying to promote his book drive to faculty, staff and fellow students at Chaminade.
"If people have any children's books at all that are gently used or brand new, I would love to add them to the school libraries in the Philippines," Pallon said.
While holding the book drive, being a part of Chaminade's UPAC (University Policy, Planning, and Assessment Advisory Council) and juggling a two-day school week – he only has classes on Tuesdays and Thursdays, plus a Wednesday speaker session for the Hogan Entrepreneurs program – he is also averaging two to three trips annually to the Philippines.
He said that he received the funds to travel and purchase books from insurance and savings for his late brother, who died five years ago. He also collects returnable cans and bottles, which defrays some of the costs.
Pallon said that he was motivated to donate because of his mother, who grew up in the Philippines.
"My mom went through some terrible living conditions as a child," said Pallon, a transfer student from Glendale College. "She lived in poverty, and she was just one of the lucky ones going from living without shoes to having a job that's now in her six figures."
Pallon wants to give children in the Philippines the same opportunity that his mother was given.
"I mean I've been blessed with a family that has so much accessibility," he said. "I don't want kids to go through poverty."
After graduation, Pallon hopes to work abroad or with an aerospace firm, but he still wants to continue with his contributions to non-profit organizations, saying that he "can't imagine [myself] not doing these non-profit projects."
"Typhoon Haiyan has changed the dynamics of what I've been doing," he said. "It's given me more motivation, and it's great to have that kind of outreach."
For those interested in donating books to Pallon's book drive, please e-mail Joe Pallon at [email protected] for more information.
About the Contributor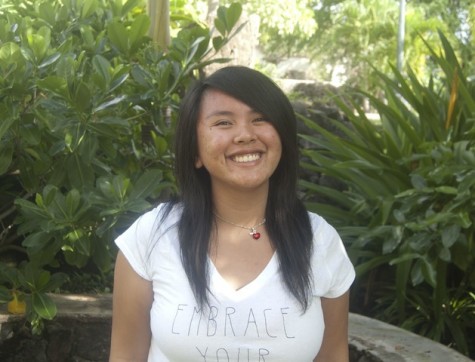 Vina Cristobal, Staff Writer
Vina Cristobal is a junior who is majoring in Communications (Mass Media). This is her second semester as a staff writer for the Silversword.  In her...