Fairwood Drive Inn and Pho 27 Vietnamese Cuisine : Delicious and cheap
The Fairwood Drive Inn and Pho 27 Vietnamese Cuisine present separate atmospheres under the same roof and diverse traditional meals from the East. Fairwood Drive Inn offers an average takeout and dine-in environment for casual meals to be enjoyed spur-of-the-moment or on-the-go.  Pho 27 is slightly more sophisticated with its mood lighting and fancier ambience.
The Fairwood Drive Inn dishes out traditional "local-style" Chinese cuisines that are served at a takeout counter.  Pho 27 specializes in traditional Vietnamese noodle soup consisting of broth, linguine-shaped noodles and meat called Pho. The warm meal should be enjoyed slowly because it can take a while to scarf down everything in the bowl.  Both sides of the restaurant offer unique vibes and a variety of quality meals at an affordable price and appropriate portion.
The assortment of delicious meals for Fairwood Drive Inn can be informally enjoyed in a brightly lit room. For no more than $13, a large portioned meal packed with flavor can be purchased. With the choice of a fork or chopstick, customers choose a table in front of a plasma screen television that usually displays a foreign film.
The "Lunch Special," featuring honey garlic chicken, char siu, and beef and broccoli with a side of rice and mac salad, is amongst my favorite meals from the establishment. I usually substitute the rice and mac salad when I get the "Lunch Special" meal for cake noodle, which costs an extra dollar.
The honey garlic chicken is sweet with a soft, yet crispy coating that is covered in sesame seeds. The chicken leaves a honey residue on the cake noodle and sweetens its taste. The char siu is delicious and a bit tougher. Both the beef and broccoli are tender and dripping with zesty soy sauce.
The cake noodle is a chewy, square-shaped noodle concoction, covered in oyster sauce. The delectable trio of entrees delivers a satisfactory shock to the taste buds. Every food item sold at the establishment is freshly cooked to culinary perfection by the chefs in the kitchen, all of which is offered at the price of $10 for a regular sized meal.
Many other special sides such as fried rice and brown rice are offered for small additional fees as an alternative to white rice and mac salad. Crisp six-piece gyoza and four-piece gau gee are $3.50 apiece and make a delightful side order.
A barbeque chicken burger can also be purchased for $3.50 as a small but filling snack. The sandwich consists of a freshly grilled piece of chicken breast lightly basted with BBQ sauce between two seeded hamburger buns, with mayonnaise and lettuce on top. The mouthwatering light meal is cheap and fulfilling for anyone on-the-go.
Sandwiches, side items, local favorites, traditional rice plates, noodle plates, noodle soups, stir-fry, combination plates, beverages and spicy dishes are all available at Fairwood Drive Inn. The wide range of selection gives room for many choices to satisfy any customer's distinct palate.
Pho 27, however, offers just as much selection but in a different form. Pho 27 is located behind Fairwood Drive Inn, in a much more spacious, dimly lit portion of the establishment.
The plant-decorated, fancy tables are wider than the few in Fairwood Drive Inn. The spacious territory gives customers a roomier feel for more secluded, personal enjoyment. The smoother atmosphere is a better place to wine-and-dine a date or bring a guest to make a great formal impression.
The pho is served hot with the noodles and a choice of meat(s) in the broth. Freshly chopped herbs and vegetables are placed to the side of the bowl to place into the broth. A small rack of assorted Vietnamese condiments are at the table to sweeten, sour or spice up the broth to the customer's delight.
Although it is usually served with beef, pho doesn't always have to include meat. The pho can also contain won tons, chicken, char siu, seafood, vegetables and more. However I tried it with beef brisket and it was slightly chewy, yet tasty.
The bowls of Pho come in three sizes: medium, large and extra large. The hearty broth along with the fine choice meats provides a substantial dinner for the price of $8.25 at the cheapest and $13.95 at the most expensive.
The restaurants also give students from any school a discount of 10 percent when they present their student ID before their purchase. Located at the Kaimuki Shopping Center on Waialae Avenue, both the Fairwood Drive Inn and Pho 27 are in operation from 10 a.m. to 9 p.m. every day.
About the Contributor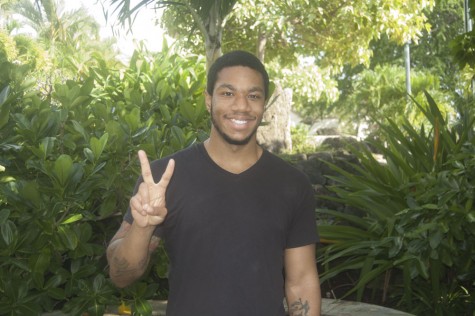 Winston Anderson, Staff Writer
Winston Anderson, a New York native, traveled across many states and waters with high hopes of studying Communications and Psychology in Honolulu, Hawaii,...